Conan O'Brien On NBC Divorce: "Breaking Up Suddenly, Violently, Quickly" (Video)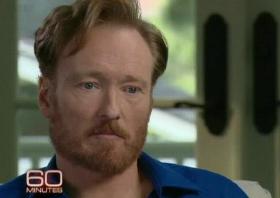 Conan O'Brien made his return to TV in a much-hyped 60 Minutes interview with Steve Kroft.
It was a decidedly Team Conan segment, and also a surprisingly serious and frank discussion with the comedy host.
From the very beginning, it was very pro-Conan. Kroft said Conan's final couple weeks saw "some of the best late night jokes in a decade" while since he left "NBC did their best to push him into oblivion." Meanwhile it was "Leno's disastrous prime time show," according to Kroft, that set the wheels in motion for the events that transpired (not necessarily far off, but there was no "disastrous" tag applied for Conan's Tonight Show).
There were some surprising moments, like seeing the "Legally Prohibited From Being Funny On Television Tour," make it's television debut (although clips have leaked out online). Also, we got to see the somewhat sad process of O'Brien tweeting, which apparently involved Tonight Show head writer Mike Sweeney, sidekick Andy Richter and tour blogger Aaron Bleyaert. Also, we saw a brief Q&A with Liza O'Brien, Conan's wife, who described what happened as "like watching someone's heart get broken." It echoed Conan's sentiments, who said the situation was "like a marriage breaking up suddenly, violently, quickly."
When it came time to talk specifically about Jay Leno, there were jokes about non-disparagement and tactically cautious answers. The language was clear though: Leno, according to Conan, "went and took that show back."
And he did find the idea Leno somehow got screwed to be funny. "Jay's got The Tonight Show, I have a beard and an inflatable bat. And I'm touring city to city," he said. "Who can say who won and who lost?"
Again, it was a pro-Conan interview. While Kroft did talk ratings, it was dismissed quickly by Conan as not having a chance to grow his own product. But as Kroft mentioned the superb final couple weeks of Conan's Tonight Show, it ignores many people's reaction – where was this for the last six months? Also, no mention of what happened with FOX (obviously TBS is a nice landing spot, but it's still cable).
The ratings for 60 Minutes will likely be strong – even stronger than usual. And seeing Conan back on TV was a welcome change, even if he was out of his usual element. Where he goes next now becomes the follow-up story – George Lopez? David Letterman?
Here's the full interview:

Watch CBS News Videos Online

—–
» Follow Steve Krakauer on Twitter
Have a tip we should know? tips@mediaite.com