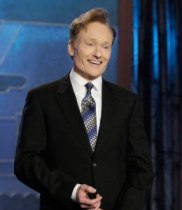 Besides the revelation in the latest Harris America's Favorite TV Personality poll that Glenn Beck is the 2nd most popular behind Oprah Winfrey, there are some interesting late night implications as well.
Specifically, Conan O'Brien (who has been in the news a little recently) winning one of the categories.
From the Harris press release:
Men say Jay Leno is their favorite, while for women it is Oprah. Generations also have their favorites. Echo Boomers (those aged 18-32) are about to be disappointed as Conan O'Brien is their favorite, while for both Gen Xers (aged 33-44) and Baby Boomers (aged 45-63) it is Oprah.
Conan doesn't make the top 10 overall list – although his former competitor David Letterman comes in at #2. And Jay Leno finished #3 (although this poll took place before any of the late night wars gained steam). But the poll results clearly show what already knew: NBC is choosing status quo over planning for the future. Conan is the most popular TV personality by viewers 18-32. It's an attractive age group – maybe not the big spenders that occupy the top of the 18-49 market, but a group that most networks would love to cater to, when possible.
And as Conan goes out on top of the young demo in the Harris poll, he's also going out on top in the ratings. Friday's final show quadrupled his usual ratings in the A18-49 demo, beat Leno's final Tonight Show (well, for a time) by 40% and was the program's best ever. Of course, the controversy helped contribute to that, but it certainly sets a precedent Leno's detractors will point to when the former Tonight Show host reassumes the reigns March 1.
• Conan's Goodbye: "I Do Not Regret One Second"
Here's his goodbye, one more time:


—–
» Follow Steve Krakauer on Twitter
Have a tip we should know? tips@mediaite.com