Concha: GOP's Lauten Follows Limbaugh, Shuster, Harris-Perry in Breaking Rule #1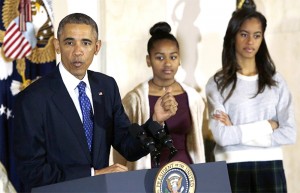 Some people never learn.
Doesn't matter if you're a political operative or member of the media. Doesn't matter if you're male or female, Republican or Democrat. If there's ever one hard and fast rule to live by–one with no ambiguity whatsoever–it's this:
Never go after the kids of any public figure.
As reported by Mediaite earlier today, Elizabeth Lauten, the communications director for Rep. Stephen Fincher (R-TN), will be resigning (per NBC News) following a WTF-were-you-thinking? online post aimed at publicly admonishing the behavior (which was quite common for two bored teenagers) at a public event of Sasha and Malia Obama, aged 16 and 13, respectively. For those who missed it, here's the unsolicited advice Ms. Lauten would later apologize for via Facebook: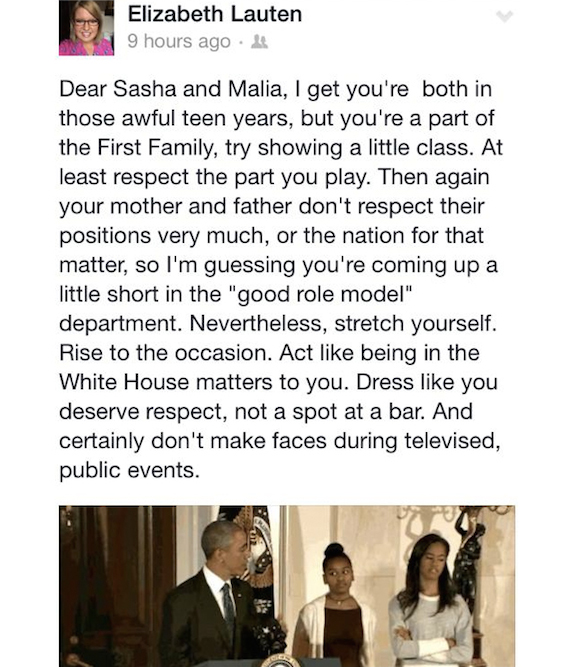 And it's not like we haven't seen this movie before to serve as a cautionary tale. For starters, ask Rush Limbaugh, who was patently buffoonish in 1992 when comparing then-12-year-old Chelsea Clinton's appearance to that of the Clinton's dog at the time, Millie. After taking some serious heat, Limbaugh would apologize but was not be suspended in any capacity (when he absolutely should have been).
Ask David Shuster what happened to his relationship with MSNBC after stating that Chelsea Clinton was "sort of being pimped out in some weird sort of way" by mother Hillary for lobbying super delegates on her mother's behalf during her failed 2008 campaign. This did not sit well–nor should it have–with the former president and first lady. Per Daniel Halper's 2008 book, "Clinton, Inc.":
According to a source close to the situation, the Clintons called people on the board of NBC's parent company General Electric to say, 'Well, this is outrageous, how NBC News and MSNBC are handling this, and we need to do something about it…Before long, GE's chairman Jeffrey Immelt, was on the phone with Jeff Zucker, the president and CEO of NBC Universal at the time, and (former NBC News president) Steve Capus asking, 'What the hell is going on over there? Why are my board members talking about the reporter, and why is your reporter referring to Chelsea as a prostitute?'
Shuster later apologized but was still suspended for the comment two weeks. He and the network parted ways in 2010 following Shuster shooting a pilot for CNN while under contract at MSNBC.
Then we have the more recent example of Melissa Harris-Perry and panelists on her show mocking the adopted African-American grandchild of Mitt Romney late last year. After being slammed for two straight days by many in the media, Ms. Harris Perry offered a tearful apology that the Romneys publicly accepted. No suspension, but rest assured a lesson learned and a brand damaged.
There are more examples (such as David Letterman joking about Sarah Palin's then-14-year-old daughter, Willow, being knocked up by Alex Rodriguez being a biggie in 2009), but you get the overall idea. Red, blue, man, woman, black, white…doesn't matter. Just follow one rule in the world of politics and media:
Don't attack the children of public figures.
— —
>> Follow Joe Concha on Twitter @JoeConchaTV
Have a tip we should know? tips@mediaite.com