Concha: Juggernaut TMZ Proves Its Legitimacy Once Again in Scooping Sterling Saga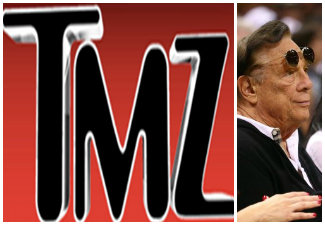 There was a time TMZ was looked upon as just another celebrity gossip site. Owned by Time Warner, its web publication and TV show—while both popular from the start—couldn't possibly be taken seriously by the prominent news organizations mostly based in New York.
As proven once again this week, that narrative now feels so antiqued.
Somewhat lost in the avalanche of coverage of the Donald Sterling saga is who broke the story in the first place: Thirty Mile Zone, which will be celebrating its 10th anniversary next year (although it feels like it's been around much longer, doesn't it?). How TMZ got the tape of Sterling making his hideous racial remarks is unclear (the woman on the tape with Sterling, "V. Stiviano", claims she didn't send the recording to TMZ). But once again, the outlet beat all the big boys (Los Angeles Times, all the network affiliates, syndicated entertainment shows nearby) to yet another story.
It seems more and more small news-gathering online publications are getting its big moment. For the National Inquirer, it was the John Edwards love child story. For Matt Drudge and The Drudge Report, it was the Lewinsky scandal…which dropped into his lap after Newsweek foolishly decided to kill the story. Context is everything, so check out these numbers: Drudge has 21 million unique visitors per month, or 10 million more than Politico and two million more than WashingtonPost.com. Drudge has just two employees, while Politico has over 200, and WaPo has at least 600 journalists alone. More for less just took on a whole new meaning…
For TMZ, its "it" moment was the shocking death of Michael Jackson after it scooped every other news organization on the planet on the year's biggest story. Levin's team even pronounced Jackson's death before the coroner made the news public.
"There was no doubt" (about Jackson's death), explained Levin in a 2010 interview with The Huffington Post. "EMTs wanted to pronounce him dead at the house, but Dr. [Conrad] Murray (Jackson's personal physician) didn't want to." TMZ has now redefined "ubiquitous"; its army of sources seemingly are everywhere, apparently including inside the Neverland Ranch at the time of Jackson's untimely demise.
That same year (2009), TMZ also broke relatively-young actress Brittany Murphy's death and Chicago's Northern Trust Bank misuse of $1.6 billion of federal bailout funds. The latter story—which came on TMZ's radar after the bank hired the likes of Sheryl Crow and Earth, Wind and Fire to entertain clients in Los Angeles—was seen as so valid, the House Financial Services Committee called on the bank to repay the TARP funds shortly after TMZ went live with the report.
Much has been made recently of the network news cutting back on investigative reporting efforts. Sharyl Attkisson (formerly CBS News) and Lisa Myers (formerly NBC News) both saw their on-air time get reduced from around 160 minutes per year in 2008 to 54 and 43 minutes, respectively. One argument–outside of a political one–that could be made stems from simple budgetary math:
For instance, investigative report "X" is based in the Middle East. It costs "Y" (See: tens of thousands) to send a crew (reporter, producer, technician) and pay for travel, lodging, security and satellite uplinks. And in the end, there may be nothing to uncover and therefore report. Or worse, the report turns out to be wrong, creating a major headache for said news organization and reporter alike. Meanwhile, dozens of news cycles are lost in the process. Of course, if a big story is broken (depending on how big), that one pro can outweigh all of the aforementioned cons.
On the other hand, there's the more cost–effective option of placing four of five people (already under contract) around a table in a comfy studio to talk about news that already exists. This format (using Fox's The Five as an example) can work 5-7 days a week if needed. And if the daily ratings reports are indication—The Five is usually a Top-4 show in the cable news demo despite being on at 5:00 PM when many people are still at work or traveling home from it. Needless to say, opinion journalism becomes a very cost-effective, profitable enterprise.
But as TMZ shows—at least on a pop culture/entertainment level, the value of investigative reporting still owns its weight in gold. Maybe the American appetite isn't what it used to be for political investigative reporting (unless it's a story easy for casual viewers to understand, like Bridgegate). But the craving for unique, exclusive stories is certainly still there when it comes to celebrity culture.
For example, I always found this stat fascinating: The President's 2014 State of the Union address —carried live on at least 15 networks—generated a total of 33.3 million viewers.
A few weeks later, the Academy Awards was carried by one network (ABC). Despite that huge 15-1 disadvantage, the show still had 10 million more viewers.
Simply put, pop culture, celebrity and off-the-field/court sports news (yes, TMZ was wise enough to expand its effort in creating TMZ Sports as well), is a beast that cannot be fed enough. Cable news—a mix of the hard stuff (natural disasters, human tragedy, war) and sensationalism (politics and legal cases, which more often has a racial element to it, ala Zimmerman, Bundy, Sterling, etc.), gets to be a little bit more like TMZ every day.
Supply and demand…
You'll hear a lot more about Donald Sterling today and tonight.
In the coming days or weeks, there will be another recording of a powerful person making an ill-advised comment.
Welcome to the age of accountability via easy-to-record conversations.
And more likely than not, there's a good chance you'll hear these words before getting to the meat of the story:
"According to TMZ…"
— —
>>Follow Joe Concha on Twitter @ConchaMedia
Have a tip we should know? tips@mediaite.com