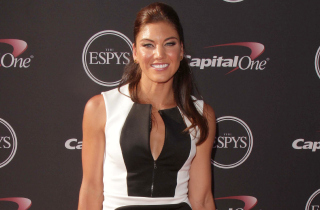 Here's a bet you won't take…
Ask ten people you know today — in person to avoid GC (Google cheating) — who Abu Bakr al-Baghdadi is.
Then ask them who Adrian Peterson is. Or Ray Rice.
The al-Baghdadi answer will likely range from "No clue" or "The Mayor of Baghdad" (Actual answer: he's the leader of ISIS, the organization we're kinda at war with). Conversely, Peterson and Rice will be known in some capacity (likely a negative one) to at least eight in ten. That 80 percent number may sound low until considering that 41 percent of participants in a Pew Research survey not too long ago couldn't identify who the vice president is (for those of you who fall into that category, it's Joe Biden).
For those who know Peterson and Rice, the follow-up question is as follows:
"Who is Hope Solo?"
After getting a few lame jokes that she's the daughter of Harrison Ford's Han Solo in the upcoming Star Wars reboot, perhaps four in ten will have a general idea of her existence (that was the number arrived at in my private survey). For those who don't, Ms. Solo is the starting goalie for the U.S. national soccer team and has amazingly held this position since Bill Clinton was president (2000). Along the way, she's won two gold medals and has recorded the most shutouts in U.S. women's soccer history. She can add some distance to that record when the U.S. hosts Mexico in Rochester tonight.
Solo is also a 33-year-old woman charged with two counts of misdemeanor domestic violence in the assault of her sister and teenage nephew. The Washington native has pleaded not guilty. Her trial is set to begin in two months. But unlike Rice and Peterson–who both absolutely deserve to be nowhere near a football field right now–Solo continues to play.
Here's the way USA Today described the moment she broke the U.S. women's shutout record on September 13 in Sandy, Utah:
In the waning moments of the U.S. women's rout of Mexico, the crowd behind Hope Solo's goal began chanting her name. They knew she was on the verge of making history. With the 8-0 U.S. victory, Solo, playing while facing domestic violence charges in Washington, collected her record 72nd shutout with the national team.
"The best part about it is the best is yet to come," she told cheering fans when the milestone was announced at Rio Tinto Stadium on Saturday night.
So while the star goalkeeper plays again tonight under the media radar, cable news and ESPN continue their soapbox sermons on the evil NFL, where if you weren't paying attention, would conclude is the only organization in the country to employ characters like Peterson or Rice. The fact is that domestic and child abuse are epidemics in this country. If it takes two major athletes from America's most popular sport to bring more attention to it, that's only a good thing. But to pretend domestic and child abuse is a one-way street in terms of gender is another example of media twisting a narrative to satisfy the ends to the means.
Is Solo guilty? Only three people–the ones directly involved–know that. But what if Solo played not for the U.S. women's soccer team, but the National Football League as, say… a kicker (think of Kathy Ireland as a college kicker in the 1991 flick Necessary Roughness). Does she really get a free pass via being ignored? Does U.S. Soccer President Sunil Gulati avoid calls for his termination by almost every pundit in the country? Here's what he had to say when a reporter–one of very few–actually asked a question about his decision to allow Solo to play recently:
"We looked at all the facts that we had in front of us, we talked to Hope, and are going to wait until the legal proceedings come to a conclusion before we take any action, if it's needed."
Adrian Peterson also has legal proceedings upcoming. No conclusion has been made in a court of law (the court of public opinion proving more powerful in the meantime).
Would I ever lay a hand on my wife or young child? Never.
Do I believe in due process? Yes.
Was Peterson suspended by the team because they wanted to do the right thing? No.
Was Peterson sidelined because Radisson Hotels suspended its contract with the Vikings and it spooked owner Zygi Wilf? You bet.
So again, why does Hope Solo get a pass from fans, media and soccer hierarchy alike–while Peterson does not?
Maybe because nobody is making a fuss about it…
She plays again tonight. Will cable news, will ESPN, will sports talk radio debate that topic?
You already know the answer to that one.
[Ed. note: A Friday morning MSNBC panel discussed the ideas in this column, and things got tense. Watch that here.]
— —
>> Follow Joe Concha on Twitter @JoeConchaTV
Have a tip we should know? tips@mediaite.com