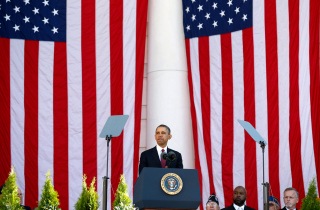 Another tough week for President Obama in what has been a tough second term in general. And the future doesn't look very bright from a big picture perspective, either: Democrats aren't taking back the House in November and are more likely than not to lose the Senate as well (a 60 percent chance, according to the partisan, right-wing nut job Nate Silver of ABC/ESPN).
Unlike other second-term controversies (NSA, IRS, AP, Benghazi), the VA scandal is being deemed even by some Democrats and its allies in the media as a whole different ballgame. To review quickly, it is now clear the Obama Administration knew of serious issues at the VA for years and—despite throwing money at the problem in the hope it will go away—those issues have only become worse. Whistleblowers are now coming forward left and right. The number of hospitals now under investigation for long wait times and fraudulent record keeping—just ten last week—has risen to 26, according to the agency's Office of Inspector General. The VA has acknowledged 23 deaths by veterans due to excessive waits across the country.
In comments made yesterday—his first on the issue in over three weeks–the President promised accountability and prompt action. But upon looking at Mr. Obama's schedule today, it's troubling—both from a priorities and political perspective…take your pick—what he'll be doing the day after vowing swift action in a situation where lives potentially are involved:
President's Schedule || Thursday, May 22, 2014

10:00 am || Receives the Presidential Daily Briefing
10:45 am || Meets with travel and tourism executives; Roosevelt Room
1:05 pm || Departs White House
2:30 pm || Arrives Rome, New York
3:25 pm || Tours the National Baseball Hall of Fame; Cooperstown, New York
3:55 pm || Delivers remarks; Cooperstown
4:55 pm || Departs New York
5:50 pm CT || Arrives Chicago
7:00 pm CT || Attends fundraiser for Senate Democrats; private residence, Chicago
8:25 pm CT || Attends second fundraiser for Senate Democrats; private residence, Chicago
Is anyone saying he should blow off the travel and tourism executives who flew into town or even the Hall of Fame appearance? No. But afterward—when the Commander-in-Chief has an opportunity to demonstrate that he's truly on top of the situation…that he cares…he'll be flying to his hometown of Chicago for two private fundraisers instead. For conservative media from Rush to Levin to Beck, you can rest assured the 1-to-10 outrage meter will be set to 24 during their respective shows on this very topic this afternoon…the President simply made it too easy.
Obama Advocates will say one of his greatest strengths is his political acumen despite not being in the game on a national level for very long (relatively). In 2012, no one can say he won that election based on his record alone…not even close. The GDP wasn't purring along, unemployment and particularly U6 wasn't anything remotely to crow about. But regardless of being vulnerable on several fronts, he overcame the odds because he was simply the better politician.
Why? Because of an unprecedented, meticulously-organized ground game, one even Republicans tipped their hats to. And messaging, mainly via his Vice President, was simple: "Osama Bin Laden is dead and General Motors is alive." He kills bad guys and protects American workers. Like his victory over John McCain before him, Mr. Obama appeared to be the more human, more likable choice in beating Mitt Romney soundly on the electoral front.
So that's why it is just so surprising, even disturbing, that the President took over three weeks to address the VA scandal and isn't visiting any VA hospitals today when there's plenty of time to do so. Know this: Candidate Obama might have treated the situation differently, showing a sense of urgency, of compassion.
Memorial Day Weekend is on the horizon, however, and he still has time to try to turn things around (at least from an optics perspective) by doing a tour of any of the aforementioned 26 hospitals now under investigation to show he's engaged after becoming enraged upon learning about the depth of the problems at the VA via the media. Otherwise, what Jon Stewart said a few months ago about this being the "f*ck it" stage of his presidency will prove prophetic.
The President's schedule today includes two fundraisers tonight, a trip to the Baseball Hall of Fame this afternoon.
Unless this really isn't the stage of this presidency Stewart said it might be, Mr. Obama's weekend itinerary must look much, much different.
— —
Follow Joe Concha on Twitter @ConchaMedia
Have a tip we should know? tips@mediaite.com