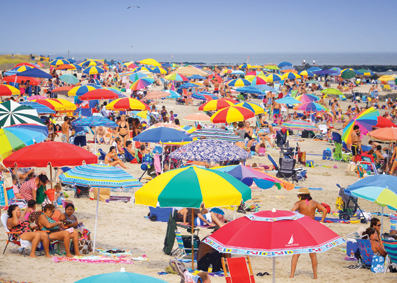 There are very few guarantees in life these days…we all know about death and taxes, but two more can be added to the list:
– The Browns will never win a Super Bowl
– The week after Labor Day will feature the best weather of the summer (here in Jersey, anyway)
The problem with the second guarantee is that summer is unofficially over on Tuesday. Which begs the question: Who the hell decided that the first Monday in September should end the season across this great country? Was this an arbitrary decision made by one individual?
The answers are (1) Grover Cleveland and (2) Generally, yes. Cleveland, the 22nd and 24th President of the United States–the only president to serve non-consecutive terms–was a Democrat. During his second time in office, however, his own party was fed up with him for a variety of reasons. Cleveland, seeing the writing on the wall, decided he needed to curry favor with the unions (which also viewed him with disdain) in order to get back in good graces with his fellow Democrats. And what better way than declaring "Labor Day" a national holiday, as he did in 1894?
The original date was set for May 1…not exactly a good idea given its proximity to the Haymarket Riot (short version: A bombing occurred at a labor rally eight years prior on May 4 at Haymarket Square in Chicago. The labor demonstration for an eight-hour day started out peacefully until someone threw a bomb — made of dynamite — at cops as they began to break up the rally. The explosion killed seven police officers and four civilians.) Could you imagine cable news and Twitter being around for that?
Anyway, Cleveland decided to go with the first Monday in September instead to avoid the day being used to commemorate Haymarket, which occurred on his watch during his first term. The move didn't work out too well for Mr. Cleveland, as Democrats nominated William Jennings Bryan to represent the party in the next election instead. Not to be repetitive or anything, but could you imagine cable news and Twitter being around for that? Bryan would go on to lose soundly to Republican William McKinley.
So to recap, an unpopular president throws a Hail Mary to win back the hearts and minds and votes of unions, and picks a date (which was already being used by a few states) that ends your summer prematurely. His own party says thanks for the day off and throws him out anyway.
In checking the long-range weather forecast in my neck of the woods for next week, skies look to be party sunny with highs around 90. For four days this summer, we've only broken 90 in the New York Tri-State area a whopping four times.
Yes, technically next week will still be summer. But with schools starting again, fantasy football drafts being held and the NFL season kicking off, an autumn that feels more like August begins.
We can thank Grover Cleveland for that. Hopefully this president or the next will truly be bold and end this farce. The solution is simple: Move Labor Day back to the second Monday in September.
You want bipartisan agreement?
Such a bill would pass without a sweat.
Americans would overwhelmingly support it in the court of public opinion.
Add that to the list of guarantees in life.
>>Follow Joe Concha on Twitter @JoeConchaTV
Have a tip we should know? tips@mediaite.com