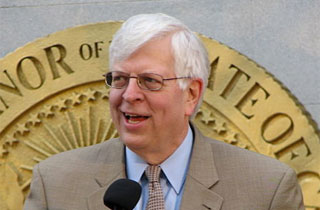 During a GOP rally for Governor Rick Scott intended to "get out the vote," nationally syndicated radio host Dennis Prager decided to talk a little about the "war on women" — specifically saying that "it's a gargantuan lie to get votes" — and then went just a little bit further.
"It's as big a lie as the culture of rape on your campuses," he said according to the Sarasota Herald-Tribune, right after Louisiana Governor Bobby Jindal had given a speech. "What nonsense. There is a culture of rape on campuses run by the feminist left?
"What do you cite to sell me this nonsense?" he continued. "Did you ever look at what counts? An unwanted kiss is considered sexual assault. I'm stunned it's only 1 in 5. Four out of five women have not gotten an unwanted kiss?
"My wife gets unwanted kisses every so often," he joked. "They make light of rape because they redefine these terms.
"Culture of Rape? No. I'll tell you why it exists on the campus, and that is: a rape of the culture."
After the event, GOP spokesmen quickly scrambled away from Prager's comments. Sarasota Republican Party chairman Joe Gruters, who also happens to be on the board of trustees at FSU, acknowledged that rape culture was a serious problem on college campuses.
Prager's comments "should never have been part of a political discussion at the rally," he told the Tribune-Herald.
[h/t TPM]
[Image via Nate Mandos/Wikimedia Commons]
—
>> Follow Tina Nguyen (@Tina_Nguyen) on Twitter
Have a tip we should know? tips@mediaite.com