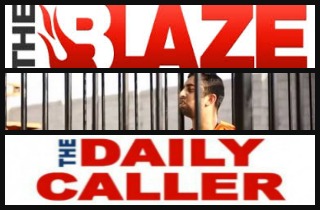 The repercussions of Fox News' decision to post the entire ISIS-produced video of Jordanian pilot Muath al-Kasaesbeh being burned alive on online are being felt around the web on Wednesday as conservative sites are rushing to embed the 22 minute clip to prove that they too, are outraged by Islamic extremism.
As other news outlets chose not to promote the imagery of the Jordanian pilot burning alive in a cage, Fox News began by first allowing anchor Shepard Smith to describe the video in excruciating detail and then having Bret Baier leave one still image from it on-screen for several seconds during his Tuesday night broadcast.
"The images are brutal, they are graphic, they are upsetting. You may want to turn away. You may want to have the children leave the room right now," Baier warned viewers. "The reason we are showing you this is to bring you the reality of Islamic terrorism and to label it as such. We feel you need to see it so we will put up one of the images on your screen right now."
The next morning, the full video of al-Kasaebeh's death was up on FoxNews.com. "After careful consideration, we decided that giving readers of FoxNews.com the option to see for themselves the barbarity of ISIS outweighed legitimate concerns about the graphic nature of the video," Fox News executive vice president John Moody said in a statement. "Online users can choose to view or not view this disturbing content."
Not only can online users choose to view it on Fox's website, but because the network made the video embeddable, now others sites can post it too. And that's exactly what happened on Wednesday.
First, Glenn Beck's TheBlaze embedded Fox's video — along with a series of graphic still images — on its website. The host echoed Baier when he wrote, "I believe it is important for the world to see them. We have been lured into a poppy field where we have fallen fast asleep as grave danger quickly approaches."
Then, it popped up on Breitbart, which failed to mention the source of the video, but nonetheless used Fox's embed to share it with readers.
"Breitbart News here provides the entire video of ISIS burning a Jordanian pilot alive," Brandon Darby wrote on behalf of the site. "The complete evil of Islamist ideology is visible in the graphic video. Though controversial, it is the belief of senior management at Breitbart News that the horror of ISIS should be visible for national decision makers, the constituents who elect them, and the Americans who may be called upon to fight them."
And next came The Daily Caller, whose Jim Treacher posted Fox's video with the headline, "If You Don't Want To Watch This Video Of ISIS Burning A Man Alive, Then Don't."
"This doesn't terrify me. It makes me angry," the blogger wrote. "It makes me want to see every single one of these malignant cowards dead. Executing the miserable terrorists they claim to represent is a good start. Well done, Jordan." Then, he took a moment to slam President Barack Obama's response.
It is also important to note that neither Breitbart nor Daily Caller felt the need to share the name of the Jordanian victim with readers, as clearly, this isn't about him. It's about our emotional response to his death as Americans.
If Fox hadn't captured ISIS propaganda video and posted it on their site for anyone to see and everyone to repurpose, would any of these sites have decided to do it on their own? Somehow, it seems hard to believe that any of these smaller operations would have taken it upon themselves to actually host the full video without a large company like Fox going out on a limb first.
Yes, it's true that — as many people who are posting and sharing the video say — by putting it online as opposed to on television, you are giving potential viewers the "choice" to watch it or not. But that barely diminishes the fact that any media organization that shows the horrific video is doing exactly what ISIS had hoped for.
When CNN International executive Tony Maddox was asked why his network decided not to show video of the execution, either on TV or online, he said a "key criteria" is that fact that ISIS wants them to show it.
"If ISIS wants you to show something, you should start with the principle of 'How can we avoid doing that?'" he said. "Sometimes you can't, because it's editorially a key part of the story. But in this case, you can."
Bret Baier, Glenn Beck and others might be correct when they say that watching video of ISIS burning a man alive will bring into sharp focus "the reality of Islamic terrorism."
But when a terrorist group's actions are as undeniably horrible as beheadings and burning people alive, do you really need to see it with your own eyes to know it's despicable?
[Photo via screengrab]
— —
>> Follow Matt Wilstein (@TheMattWilstein) on Twitter
Have a tip we should know? tips@mediaite.com