Planned Parenthood announced Tuesday evening that it's website was brought down by hackers. "Today, anti-abortion extremist hackers brought down plannedparenthood.org— a site that 200,000 people count on every day," they wrote in a Facebook post. "Women, men and young people across the country are still without access to the health info and services they need."
The front page of Planned Parenthood's website claimed that it was down because of an "extremist attack." But a number of conservatives have accused the organization of faking the attack in a PR stunt.
"Planned Parenthood "Hacking" Sure Looks Like An Orchestrated PR Stunt" wrote The Federalist's Sean Davis. "On the splash page declaring that the organization was hacked, visitors are asked 'Why do you stand with Planned Parenthoo' and invited to share their stories on a separate page housed at ppaction.org. And wouldn't you know it, that page functions perfectly. No sign of hacking. No sign of intrusion. Just a perfectly functional and secure web page that exists solely to build Planned Parenthood's mailing list."
He also points out how odd it is that Planned Parenthood still seems to have control of its front page, and that the page's source code lists the front page as a "Campaign," and a specific template called "Site Down Temalte [sic]." Interestingly, after social media began mocking the misspelling, the typo in the source code was fixed:
Breitbart's headline was nearly identical: "Planned Parenthood's 'Hacked' Website Looks Like PR Stunt." Along with repeating much of Davis' evidence that Planned Parenthood was in control of its website, they note that the hack occurred the day after Planned Parenthood hired a crisis management firm.
Meanwhile, conservative blogger SooperMexican notes that Planned Parenthood's Facebook post was edited four times. After originally saying hackers "briefly blocked any traffic" to the website, the posting now says the hackers "brought down" the website.
Perhaps this could all be chalked up to conservatives conspiracy-mongering… but now Planned Parenthood's website no longer claims to be hacked, and now claims to be down for maintenance.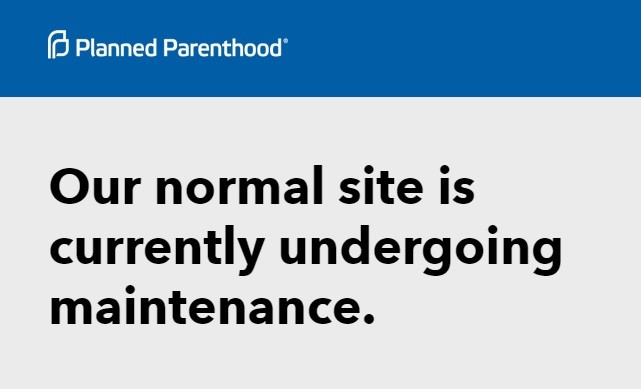 [Image via screengrab]
——
>>Follow Alex Griswold (@HashtagGriswold) on Twitter
Have a tip we should know? tips@mediaite.com