Conservatives Boycott Starbucks Over Coffee Chain's Support Of Same-Sex Marriage
Late Sunday evening, TheTeaParty.net, arguably the largest 'Tea Party' organization, appeared to urge a boycott of Starbucks over same-sex marriage.
The non-profit organization's Facebook page, which boasts over 1.6 million 'Likes', posted the following link to 'Dump Starbucks':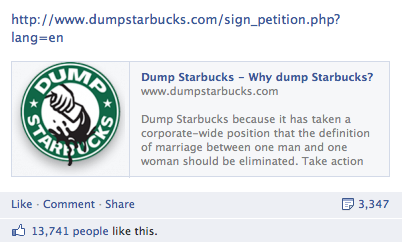 In under 24 hours, the post has received over 13,000 'Likes' and garnered thousands of comments, mostly in support.
The controversy stems from an exchange during the Starbucks annual shareholders meeting last week, in which Starbucks CEO Howard Schultz strongly reaffirmed the company's support for same-sex marriage. When questioned by Starbucks shareholder, Tom Strobhar (who is also founder of The Corporate Morality Action Center), whether the company's support for same-sex marriage was hurting its stock price, Schultz noted the company's decision was not about economics but about embracing diversity, adding (to wild applause from the crowd):
"If you feel, respectfully, that you can get a higher return than the 38 percent you got last year, it's a free country. You can sell your shares of Starbucks and buy shares in another company. Thank you very much."
The petition and website that 'Tea Party' linked to, www.dumpstarbucks.com, seems to the same website used in last year's boycott against Starbucks by the National Organization for Marriage (N.O.M.), a group that promotes traditional marriage. That initial boycott arose shortly after the Seattle-based coffee giant, in January 2012, issued a press release expressing its support for the State of Washington's legislation recognizing same-sex marriage.
It is difficult to determine whether N.O.M.'s 2012 boycott had any direct effect on the company's bottom line but, based on share price, it does not appear to have had a impact. The day NOM announced its boycott, Starbucks shares were trading at about $53 a share. One month later, shares were trading at about $58 a share. (Starbucks's latest share price, on March 25th, closed at $56.54, in case you're curious.)
The 'Dump Starbucks' petition currently has almost 55,000 signatories. What is unclear, however, how many of these are in response to the latest incident, or rather signatories carried over from the website's initial posting one year ago. It appears many of the signatures are not new, as the site had already had over 35,000 signatures in May 2012 (as pictured here).
Both same-sex marriage and traditional marriage advocates have used boycotts repeatedly. Chick-fil-A faced a boycott last year due to its affiliation with socially conservative groups, leading conservatives to counter by rallying behind the chain. (In fact, Palin was spotted wearing a Chick-fil-A shirt this weekend.) And in 2011, gay rights groups announced a boycott against Target due a controversial political donation.
On Twitter, many are expressing their plans to #BoycottStarbucks:





It remains to be seen whether this new call to boycott Starbucks will gain any steam. But one thing is certain — CEO Howard Schultz will likely not be concerned either way.
Follow AJ Delgado (@missADelgado) on Twitter
Have a tip we should know? tips@mediaite.com