Politically inactive conservatives generally populate Pinterest, while politically inactive liberals tend to use Instagram. Them's the facts, according to new data revealed by audience measurement service Quantcast this month.
As the helpful chart below demonstrates, Facebook is the most politically balanced platform (likely because it has so many users), while the majority of social media "skew Democrat and [politically] inactive":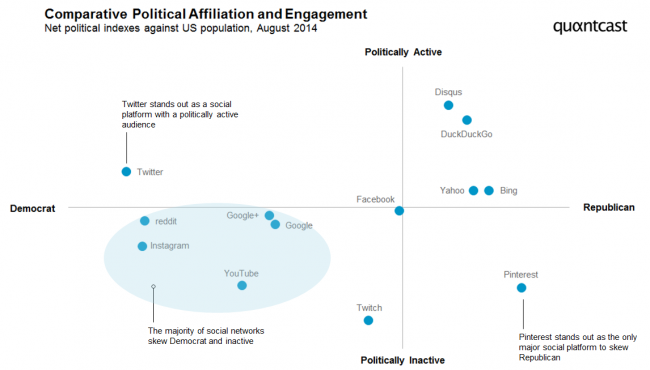 A few other noticeable details:
1) Pinterest is the most conservative social media outlet, thus confirming existing stereotypes about the site being used by older, wealthy women from the midwest states.
2) Disqus is the most politically active social media outlet. Anyone surprised? It also skews conservative, which explains a lot. (But that's also somewhat surprising, as we've noticed at Mediaite that articles about conservatives doing silly things tend to have lots of liberal comments, and vice versa.)
3) Twitter apparently leans the furthest left among all social media. That is also surprising, considering the hashtag #tcot (top conservatives on Twitter) is almost always a trending topic.
4) As for search engines, Yahoo and Bing skew right-leaning while Google leans left. Makes sense given the well-known stereotype that elderly people use Yahoo and Bing while younger, hipper kiddies use the Googles.
5) Who knew Instagram leaned left that much? You wouldn't know it by perusing all the photographs of food, cats, selfies, or people standing in front of tourist spots. Makes sense when you realize its users are also politically "inactive," so really just "liberal" by way of its users being so young.
Read the full results here.
[h/t WaPo]
[Featured image via Shutterstock.com]
— —
>> Follow Andrew Kirell (@AndrewKirell) on Twitter
Have a tip we should know? tips@mediaite.com