Conservatives Laura Ingraham, Ann Coulter Face Criticism Over Use of Nicki Minaj, Beyoncé Lyrics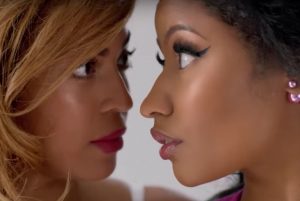 The current election is a weird one if only because women who were reportedly groped in nightclubs and who host syndicated celebrity gossip shows are playing an integral role in the election of the next President.
Other women, like conservative pundits Laura Ingraham and Ann Coulter, want to play their part, too, so they've been trying to defend Donald Trump as more and more stories (and recordings) of his allegedly sexually predatory behavior emerge.
The only problem is that they've targeted other women — Beyoncé and Nicki Minaj — to help them make their point, but in doing so, they have brought massive ire upon themselves.
Let's start with Coulter, who tweeted this:
Beyonce, cited by Michelle Obama as role model for her daughters, sings about "pussy curvalicious, served delicious." Oh my. I just fainted.

— Ann Coulter (@AnnCoulter) October 14, 2016
Close, but not quite! The line she referenced is from a Beyoncé song, but was actually rapped by Minaj. In "***Flawless (Remix)," Minaj was featured in the interlude and rhymed, "Curvalicious, pussy served delicious."
Like the remix, the original version of "***Flawless" is about women empowering themselves, focusing on strengthening female friendships, sticking together, and not tolerating outdated ideas about living to serve men. The original sampled a TEDx Talk by Chimamanda Ngozi Adichie that centered on the importance of rejecting the notion that women should seek to grow only into subservient wives.
Coulter's argument seems to depend on Minaj's use of the word "pussy" and the theory that people who are railing against Trump have taken moral issue with his use of the same word during "locker room talk."
However, most of Trump's detractors are not as outraged by the word "pussy" as they are by Trump telling Billy Bush that famous men can get away with grabbing women by the pussy. That amounts of the promotion of sexual assault, according to a number of outspoken opponents of Trump's, including First Lady Michelle Obama, whose praise of Beyoncé led Coulter to tweet the misattributed lyric.
By referring to her privates as something being "served," Minaj is, in effect, giving her partner her consent, which a woman being grabbed "by the pussy" by a famous man has not done.
Coulter took heat on Twitter.
Sexual talk ≠ sexual assault.
Sexual talk ≠ sexual assault.
Sexual talk ≠ sexual assault.
Sexual talk ≠ sexual assault.

— Mikel Jollett (@Mikel_Jollett) October 14, 2016
Oh @AnnCoulter #trump said "I will date you in ten years time" to a child – when @Beyonce starts hitting on kids you can quote Minaj lyrics

— Janey Godley (@JaneyGodley) October 14, 2016
@AnnCoulter that's @NICKIMINAJ line genius. if you're going to discredit Beyoncé atleast have your lyrics correct pic.twitter.com/EHk6pSECQy

— Gold (@publicfit) October 14, 2016
Ingraham, too, tried to discredit Trump's detractors with a (correctly-attributed) Minaj line.
N.Minaj met w/Obama…her lyrics? "Real country-ass n*gga, let me play w/ his rifle
P***y put his *ss to sleep…" https://t.co/lhdTcxDdU1

— Laura Ingraham (@IngrahamAngle) October 14, 2016
Once again, these lyrics include mentions of consent. It is being argued that to sing that a man "let me play with his…" is to acknowledge that he consented to the activity. To many who noticed and responded to the tweet, then, there is no correlation between this admittedly raunchy talk and the sexual assault allegations against Trump that have so many politicians and pundits worked up.
Ingraham, too, faced criticism on the microblogging platform.
@IngrahamAngle pic.twitter.com/W1ZGJkBxu4

— Jason Boo-ley (@jasondashbailey) October 14, 2016
@IngrahamAngle IT IS NOT ABOUT THE WORD PUSSY IT IS ABOUT CONSENT

— Marin Ireland (@MarinIreland) October 14, 2016
@IngrahamAngle Going back forth saying "well what about this, this and that" is weak. Nobody forced Trump to make the comments/behaviors

— d.m. (@missumyhappybrd) October 14, 2016
@IngrahamAngle she isn't running for president, didn't say off the record that she could get away with sexual assault because of her fame

— my bloody augustine (@mycoolaugustine) October 14, 2016
Beyoncé is often held up as an example perceived of liberal hypocrisy by right-leaning pundits, but Minaj is not as frequently used to prove political points.
[image via screengrab]
Have a tip we should know? tips@mediaite.com