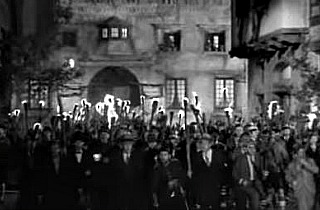 A Democratic gubernatorial candidate in New Mexico, Alan Webber, has committed an egregious offense. He may soon be awarded the scarlet "R" which, when applied, banishes the wearer to the Leper's Caves where they are expected to spend the rest of their days in perpetual darkness. What was Webber's offense? Speaking to supporters, he seemed to have attacked New Mexico's Republican Gov. Susana Martinez on the basis of her ethnic heritage.

"We need to send her back to wherever she really came from," the contemptible Webber said of the first Hispanic woman governor in the nation's history.
And if you stopped there, or read only the headline on The Weekly Standard's post which blared just that offending quote without context, you could be forgiven for thinking that Webber should be drummed out of polite society.
But Webber did not stop there. He did not even pause to take a breath before he clarified, "I suspect it's Texas."
"And that would be good for Texas," he continued, "and that would be good for New Mexico."
One could spin Webber's remark into something racially insensitive, but that would be misleading. And some appear to have been misled:
Where's the outrage? Dem trying to oust Susana Martinez: We Need to Send Her Back to Wherever She Really Came From http://t.co/dhVVMY0Wli

— Kate Obenshain (@kateobenshain) May 30, 2014
Those racist Dems: "Dem to Hispanic Republican: 'We Need to Send Her Back to Wherever She Really Came From'" http://t.co/mvh2rB5jys

— Michael E. Newton (@pathtotyranny) May 30, 2014
Dear #P2 #UniteBlue: Is this how "Progressive Democrat" @AlanForNM should refer to the 1st woman Hispanic governor http://t.co/wxxGC16dZn

— Cameron Gray (@Cameron_Gray) May 30, 2014
The outrage is misdirected. The full context of his comment suggests that Webber was making a comment about Martinez's political leanings and not her ethnic heritage.
The Weekly Standard post, authored by the astute and diligent analyst Daniel Halper, goes on to cite Webber's affiliation with members of the domestic terrorist group the Weather Underground and other unsavory characters. That's a strong case to make against Webber, but the implication that he was appealing to some form of racial solidarity here does not pass the smell test.
Inventing racial animus where it doesn't exist is an unscrupulous tactic often appealed to by conservatives' opponents. It can be effective at inciting incandescent rage and mobilizing base voters, but because it is effective does not make it moral. Conservatives should aspire to be better than those who employ to this dishonest tactic.
[Image via screengrab]
— —
>> Follow Noah Rothman (@NoahCRothman) on Twitter
Have a tip we should know? tips@mediaite.com