Controversial Grammy Performer Nicki Minaj Has At Least One Conservative Fan: Sen. Marco Rubio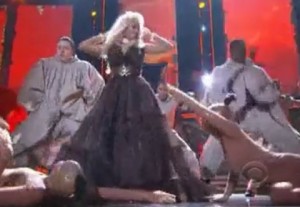 Hip-hop star Nicki Minaj really set the stage on fire at last night's Grammy Awards, at least in a literal sense, but her exorcism-themed performance of Roman Holiday got a considerably colder reaction from critics, and enraged many Catholics and religious conservatives. It may even have cost her at least one prominent fan: in a May interview with The Daily Caller's Matt Lewis, Sen. Marco Rubio named Minaj one of his musical faves.
Minaj's religion-tweaking performance has been getting less-than-stellar reviews from critics who note that the Catholic-baiting thing has been done to death, but maybe that's the point: no matter how much it's done, people still talk about it. The performance drew outrage from some Catholics and conservatives, who saw it as sacrilegious.
I suppose it's a matter of taste, but aside from Minaj's Papal red carpet "date," her actual performance didn't seem all that offensive. It was highly stylized and bombastic, for sure, but in the confines of pop culture spectacle, I didn't see anything that really qualifies as "blasphemous," or even as "mockery" of Catholicism.
I would also disagree with critics who have that "been there, done that" attitude. The spot was obviously an homage to the exorcism genre, but it was well-staged and memorable.
Here's a clip of Minaj's performance, judge for yourselves:
The outrage at Minaj's performance, though, put me in mind of one prominent Catholic conservative who sings Minaj's praises, or at least, he did a few months ago. Here's Florida Sen. Marco Rubio discussing his pop culture preferences with Matt Lewis:
Now that she's a somewhat controversial figure on the right, it will be interesting to see if Rubio stays on the Nicki Minaj train, or if she ends up under the bus.
Have a tip we should know? tips@mediaite.com