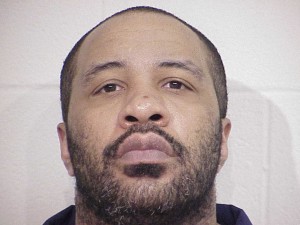 A Michigan man convicted of murdering his brother with a butcher knife has filed a lawsuit against his prison's former food provider for running out of waffles.
According to MLive.com, Iatonda Taylor is angry with Aramark, the company that formerly contracted with the Michigan Department of Corrections to feed inmates. Why? Because they fed prisoners peanut butter and jelly sandwiches when waffles ran out, and replaced bread pudding and grilled cheese sandwiches with leftover peach cobbler and "reconstituted" scrambled eggs, respectively.
In the 44-year-old murderer's defense, this all sounds pretty bad. Also, what the hell are "reconstituted" scrambled eggs, and how do they equate to grilled cheeses sandwiches?
The gist of Taylor's argument is that these substitutions nearly led to riots, especially when Aramark ran out of waffles on May 2.
Prisoners became agitated and threatened they would not move if more waffles weren't brought to the prison from a nearby store.

Taylor said he started to leave the line, but other prisoners told him he would be a "sell-out" if he left. Prison officers threatened inmates with handcuffs and segregation, and after additional officers arrived, they did handcuff and remove some prisoners.

Taylor was not among them, and he was not disciplined. But he said he now lives in constant fear of a riot.
However, U.S. District Judge Paul Maloney thinks Taylor's argument is full of bologna. He dismissed the lawsuit with an 11-page dissent, noting that Taylor "to the extent that Plaintiff claims Defendants' food-substitution decisions placed Plaintiff at risk of a riot, he essentially alleges that Defendants failed to protect him from other inmates."
"While the situation may have been tense," Maloney concluded, "Plaintiff fails to allege facts supporting his claim that he reasonably remains at substantial risk of serious injury from last-minute food substitutions."
[h/t MLive.com]
[Image via screengrab]
— —
>> Follow Andrew Husband (@AndrewHusband) on Twitter
Have a tip we should know? tips@mediaite.com