Coulter: Christians Should 'Serve Their Own Country,' Not Go Overseas to Help Ebola Patients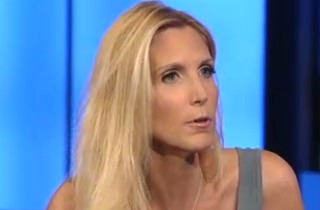 While Dr. Kent Brantly is treated in Atlanta for the Ebola he contracted while trying to treat the disease in Libera, conservative author Ann Coulter has a question: "Why did Dr. Brantly have to go to Africa?"
In her latest syndicated column, Coulter argues that Brantly and other Christian missionaries should stop trying to solve problems overseas and instead focus on the U.S.
From Coulter's column
Can't anyone serve Christ in America anymore?

No — because we're doing just fine. America, the most powerful, influential nation on Earth, is merely in a pitched battle for its soul.

About 15,000 people are murdered in the U.S. every year. More than 38,000 die of drug overdoses, half of them from prescription drugs. More than 40 percent of babies are born out of wedlock. Despite the runaway success of "midnight basketball," a healthy chunk of those children go on to murder other children, rape grandmothers, bury little girls alive — and then eat a sandwich. A power-mad president has thrown approximately 10 percent of all Americans off their health insurance — the rest of you to come! All our elite cultural institutions laugh at virginity and celebrate promiscuity.

So no, there's nothing for a Christian to do here.
Coulter theorizes many do-gooders choose to help out overseas because they're "tired of being called homophobes, racists, sexists and bigots" when they work in the U.S.
"They need to buck up [and] serve their own country," she writes.
[Image via screen grab]
— —
>> Follow Eddie Scarry (@eScarry) on Twitter
Have a tip we should know? [email protected]