Coulter Swipes At Palin By Recalling The Time Thatcher Offered To Teach Her To 'Speak Proper English'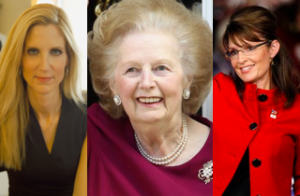 On this morning's edition of Geraldo Rivera's radio show, Ann Coulter shared a very interesting anecdote about the late Margaret Thatcher's complicated relationship with Sarah Palin. According to Coulter, Thatcher took an interest in Palin when she first emerged as a national figure and even wanted to act as a mentor of sorts for the vice presidential candidate, but Palin rejected her help.
Coulter recalled the common narrative about Thatcher's life, that she grew up as a common grocer's daughter and had to teach herself to "talk properly" and "speak like a lady." She went on to say that "when Sarah Palin first burst on the scene, [Thatcher] wanted to have a meeting with Palin, because she saw raw political talent, but wanted to teach Sarah Palin to do what she did… speak proper English."
Allegedly, Palin decided not to meet with her at that time, but then a few years later wanted to set up a meeting with Thatcher when she was on a publicity tour in London. Again, according to Coulter, "Lady Thatcher put out the word that she would not be available." The Guardian reported on the snub by Thatcher in 2011, but the story was later refuted by The Telegraph.
If there was any bad blood between the two women, it did not stop Palin from posting a tribute to Thatcher on her Facebook page today:
"We're deeply saddened at the loss of Margaret Thatcher. While the Iron Lady is sadly gone, her iron will, her unfailing trust in what is right and just, and her lessons to all of us will live on forever. She was a trailblazer like no other. We lost an icon, but her legacy, as solid as iron, will live on in perpetuity."
Listen to audio below, via WABC-AM:
(h/t The Daily Caller)
—
>> Follow Matt Wilstein (@TheMattWilstein) on Twitter
Have a tip we should know? tips@mediaite.com