CPAC Organizer: 'Without Dissent,' Everyone Agreed Disinviting Milo Was Right Thing to Do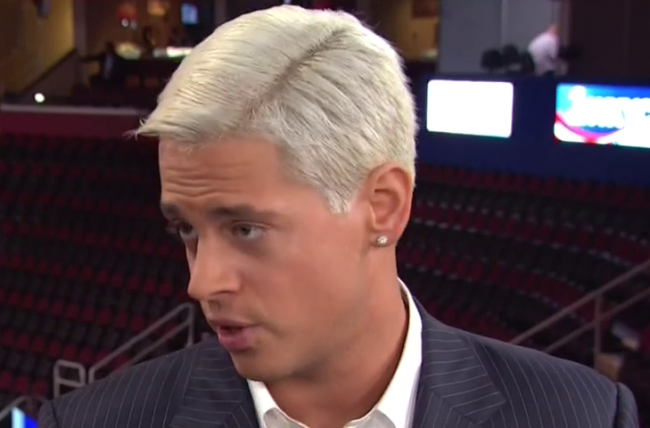 NBC News political reporter Benjy Sarlin spoke with American Conservative Union chairman Matt Schlapp about the decision to invite, then disinvite, Milo Yiannopoulos from the Conservative Political Action Conference.
Schlapp took to Twitter over the weekend to defend the decision to invite Yiannopoulos, amid reports that board members were up in arms about it, but after that video of him talking about pedophilia came out, the ACU decided to disinvite him.
RELATED: Milo Yiannopoulos Responds to Video Outrage: 'I Do Not Advocate' for Pedophilia
Schlapp explained to Sarlin why he wanted Yiannopoulos in the first place:
Of course, I had seen his videos throughout the presidential campaign, and people in my family had seen the videos. He says quotable, salacious, interesting things. He's not politically correct in any way, and the thing we thought really was worthy of highlighting is the fact there are voices on American campuses that are just shut down. We think those voices are usually voices that stem from the center-right, and we talk about that every year at CPAC, and we think that's an appropriate thing to talk about.
But after the offensive video got attention online, Schlapp said, "I think, without dissent, everyone in our leadership believed the right thing to do was to rescind the invitation."
In response to what members of the ACU board expressed, Schlapp said, "We've gotten dozens of calls and emails and texts saying we handled the situation appropriately. I think the board feels like it was handled well."
He made it clear that he doesn't want to see the alt-right get mainstreamed, adding this:
The only thing I will say is that it's an important platform, and we don't condone everything that gets said by every speaker. We'll have over 100 speakers. There's only so much research you can do on a speaker, and the thing that we're more focused on is what they're going to talk about at CPAC.

We are OK having people on the stage that we disagree with. This year, we'll have mostly conservatives, but they won't be exclusively conservative. We believe that it's best to put people — even people who are provocative — in front of our attendees as long as it's done with the right tone. Let them make their decision at the end. I don't want to be the editor and censor of what everyone says.
Schlapp insisted that it's not their intent to "get attention by having dramatic speakers," but instead to bring in "speakers who speak to the political moment."
You can read the full interview here.
[image via screengrab]
— —
Follow Josh Feldman on Twitter: @feldmaniac
Have a tip we should know? tips@mediaite.com
Josh Feldman - Senior Editor