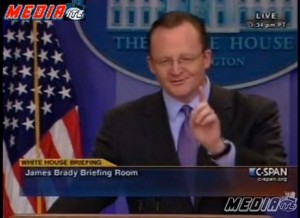 As the White House prepares for tonight's state dinner for Mexican President Felipe Calderón, they have taken steps to ensure that this affair quiets the unfortunate echoes of November's Salahi-crashed state dinner. At Monday's briefing, Press Secretary Robert Gibbs assured reporters that additional steps will be taken, although he wouldn't elaborate for fear of tipping off potential crashers. I did manage to get Gibbs to confirm one change, that there will be someone from the Social Secretary's office at the Secret Service checkpoint.
Transcript:
Tommy Christopher: I have two questions, but can I do one follow-up first? Is that okay —

MR. GIBBS: A follow-up to your question or to somebody else?

Tommy Christopher: Chuck's question about the state dinner. Can you say whether —

MR. GIBBS: Chip's question, I think.

Tommy Christopher: Was it? Okay, can you say whether it's going to be —

Chuck Todd: — another good-looking TV guy —

Tommy Christopher: Sorry, I get 'em mixed up all the time.

MR. GIBBS: Yes, all those TV guys look alike. Go ahead.

Tommy Christopher: All right, can you whether there's going to be a representative from the Social Secretary's office at the checkpoints?

MR. GIBBS: Let me check on the procedures. My understanding is there will be.
A White House staffer later confirmed for me that Gibbs was correct.
Of course, East Wing staffers aren't actually security personnel, despite efforts to blame their absence for the last breach. Having them there will certainly make for a more organized entrance, but they are not responsible for White House security.
The Crashergate story has become a sort of "grassy knoll" obsession for me, something that nags at me disproportionately. I just find it impossible to believe that anyone could sweet-talk themselves past these guys. Often, on my way into the White House, I'll bounce theories off of the uniformed Secret Service, or just say, "C'mon, did one of you guys really let the Salahis in? Really?"
Invariably, they cautiously tell me they don't know anything about it. It's a shame, because the sooner they 'fess up, the sooner I can return to my search for Keyser Soze.
Meanwhile, in an obvious attempt to collect royalties on all utterances of the phrase "that takes balls," the Salahis tell Radar Online that the White House owes them an apology:
In a brand new interview about the incident that created a national security scandal and cost presidential Social Secretary Desiree Rogers her job, the Salahis have also exclusively told RadarOnline.com the congressional investigation on Capitol Hill was a "charade" and a waste of tax-payer dollars.

"It would be nice if somebody apologized to us and for (the White House) to call it quits," Tareq Salahi, along with his wife Michaele, told RadarOnline.com.

"I would certainly not treat anyone this way that comes to my house, even if there was a question about an invitation, or there was some miscommunication… I would still welcome anyone and be gracious."
Yes, how rude of us to object to an unthinkable security breach at the home of the leader of the free world. It's right there on a par with "Would you please pass the jelly?"
Have a tip we should know? tips@mediaite.com