The Marco Rubio campaign is livid Thursday after the Ted Cruz campaign released a website that includes a photoshopped image of their candidate shaking hands with President Barack Obama.
Cruz's website "The Real Rubio Record" ironically features a very unreal image of Rubio smiling ecstatically while shaking Obama's hand. "The Rubio-Obama Trade Pact" the text ominously reads, a reference to Rubio's support for the Trans-Pacific Partnership. The Cruz website also features a photoshopped image of Rubio smiling while leaning on a business sign reading "Closed."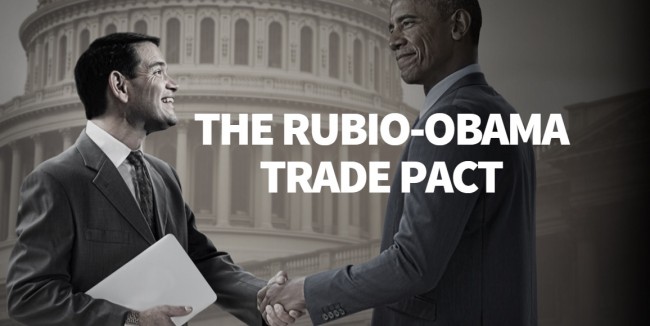 Among the red flags that the image is fake… who shakes with their left hand? Certainly not the right-handed Rubio.
The Rubio campaign was predictably less than amused. "This is how phony and deceitful the Cruz campaign has become," Rubio advisor Todd Harris told a gaggle of reporters in South Carolina, while holding up the image in question.
The pushback comes after Cruz faced criticism for what his opponents termed "dirty tricks" in Iowa. In particular, Cruz was criticized for pointing out an official-looking flyer telling voters they faced a "voter violation" unless they voted for him, and for telling supporters to spread a rumor that Ben Carson was dropping out of the race.
UPDATE (11:13 AM): The Cruz campaign doubled down, telling CNN that they believe the image is authentic.
Cruz campaign spox on this: "I am confident that our campaign would not use a photo that is not authentic." https://t.co/VjsqV0kFKy

— Teddy Schleifer (@teddyschleifer) February 18, 2016
UPDATE 2 (11:47 AM): The Cruz campaign is now walking back its initial denial, while not quite admitting the image is fake. "If Rubio has a better picture of him shaking hands with Barack Obama I'm happy to swap it out," Spokesman Rick Tyler told CNN. "Two days before presidential primary in South Carolina, they want to talk about a picture we used."
Meanwhile, Internet sleuths have tracked down the stock photo that was the basis for the photoshop the Cruz campaign won't say is a photoshop.
I did a quick google search. Is this the stock photo they used? @rickwtyler pic.twitter.com/srY2U0zqtR

— Jimmy (@JimmyPrinceton) February 18, 2016
[Image via screengrab]
——
>>Follow Alex Griswold (@HashtagGriswold) on Twitter
Have a tip we should know? tips@mediaite.com