Curt Schilling Claims Being Republican Hurt His Hall of Fame Chances; Overlooks Facts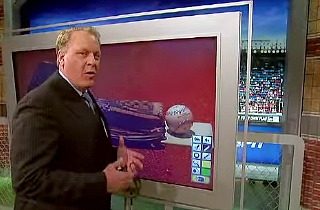 After once again falling short of the necessary vote count for entry into the Baseball Hall of Fame, legendary pitcher Curt Schilling claims political bias against his Republican views are part of what has prevented his enshrinement.
On Tuesday afternoon, it was revealed that pitchers Pedro Martinez, Randy Johnson, and John Smoltz would be part of the Hall's Class of 2015. Noticing that the latter of the three had comparable career stats to his own, Schilling told WEEI on Wednesday morning that the Braves legend was selected because of politics [emphasis added]:
I think he got in because of [Greg] Maddux and [Tom] Glavine. I think the fact that they won 14 straight pennants. I think his 'Swiss army knife versatility,' which somebody said yesterday, I think he got a lot of accolades for that, I think he got a lot of recognition for that. He's a Hall of Famer. And I think the other big thing is that I think he's a Democrat and so I know that, as a Republican, that there's some people that really don't like that.
While conceding that "I don't think that it kept me [out] or anything like that," he lamented that "there are guys who probably won't ever vote for me because of the things that I said or did."
Of course, never the one to shy away from running his mouth, Schilling overlooked a key fact: John Smoltz is not some liberal Democrat; in fact, he's just as outspoken a supporter of conservative candidates as Schilling ever was.
To wit: In 2005, Smoltz campaigned on behalf of Ralph Reed in the Georgia Lieutenant Governor race. Yes, that Ralph Reed — the super-duper Christian fundamentalist one. That same election cycle, Smoltzie stumped for Karen Handel, praising her "conservative leadership" as necessary for Georgia's Secretary of State position.
Oh, and there's more: In 2013, Smoltz lent his support to Brandon Beach's successful campaign for State Senate. The pair had previously worked together at the local level to build the King's Ridge Christian School:
"I have known Brandon for over ten years and was privileged to serve with him when we created a Christian school with Conservative values. I know his character and his commitment and that's why I'm here today," said Smoltz.
And here's one more. Smoltz once gave $2,300 in support of Mitt Romney for president:

(Also funny to note: Schilling can't even really claim the fiscal conservative mantle, seeing his own dabbling in serious crony capitalism.)
MassLive blogger Ben Shapiro (no, not that one) provided some apolitical reasons why Schilling was snubbed:
Smoltz was both a dominant starting pitcher and a dominant closer. Add in his postseason dominance and you've got yourself a pretty impressive Hall of Fame resume. Smoltz also won a Cy Young award. Schilling came close. He was Cy Young runner-up three times, but Smoltz actually won the award.

[…] Keep in mind, Smoltz had a lower career earned run average (3.33 to 3.46). Smoltz also won 213 games while Schilling amassed 216 — but Smoltz also had 154 saves. If Smoltz had never been moved to the bullpen he'd probably have far superior stats as a starter.
And yet Schilling apparently wants to be the Dinesh D'Souza of baseball: Blaming everything on politics when the real explanation is much more nuanced.
[Image via ESPN/screengrab]
[Full disclosure: Your humble scribe is an Atlanta Braves fan who fondly remembers rooting for Schilling in the 2001 World Series against the loathsome Yankees.]
— —
>> Follow Andrew Kirell (@AndrewKirell) on Twitter
Have a tip we should know? [email protected]