Former Onion Editor Issues Defense of Satire: 'The Most Powerful Form of Free Speech'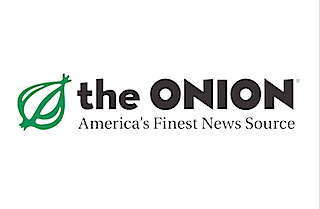 While it rarely, if ever, takes its provocations quite as far as Charlie Hebdo, The Onion is America's premier satire publication. Today, the newspaper's former editor Joe Randazzo has penned a non-satirical essay in response to the terror attack on that French magazine, published by MSNBC's website Wednesday afternoon.
Randazzo, who joined The Onion in 2006 and became its editor two years later before leaving the publication in 2011, lays out an impassioned defense of satire in his piece. "For those who would trivialize the idea, this was what an actual attack on freedom looks like," he writes.
He says that The Onion received death threats in response to certain material while he was working at its New York offices, "but I never could have imagined anything like this."
"If it turns out that members of Al Qaeda or some other radical 'Islamic' sect carried out this attack, the saddest, most profoundly ironic thing about it will have been that the satire worked," Randazzo writes. "It did its job. It so threatened its target, cut so deeply at the truth, that it resorted to the most cowardly, most offensive and despicable form of lashing out."
He then goes on to define the power of satire more broadly:
Satire must always accompany any free society. It is an absolute necessity. Even in the most repressive medieval kingdoms, they understood the need for the court jester, the one soul allowed to tell the truth through laughter. It is, in many ways, the most powerful form of free speech because it is aimed at those in power, or those whose ideas would spread hate. It is the canary in the coalmine, a cultural thermometer, and it always has to push, push, push the boundaries of society to see how much it's grown.
Read the full essay at msnbc.com.
As for The Onion's response to the story, the website published an article under the headline, "It Sadly Unclear Whether This Article Will Put Lives At Risk" late this afternoon that takes a decidedly meta, and seemingly resigned approach to the whole thing. The piece is somewhat less pointed that this 2012 post making the rounds on social media today:
No One Murdered Because Of This Image http://t.co/r8yiiHAmHi pic.twitter.com/ggXlk5NRBY

— Justin Miller (@justinjm1) January 7, 2015
[Photo via screengrab]
— —
>> Follow Matt Wilstein (@TheMattWilstein) on Twitter
Have a tip we should know? tips@mediaite.com