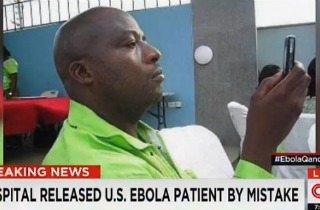 The Dallas hospital whose alleged negligence led to a Liberian man dying of Ebola and sparked a nationwide panic announced today that they had reached a settlement with his family, and planned on establishing a foundation in his name.
An attorney for Texas Health Presbyterian announced that they would pay an undisclosed amount of money to the parents and children of Thomas Eric Duncan, who had died from the virus and inadvertently infected two of his nurses. According to him, the settlement is a "very good deal" for his family, who agreed to drop a malpractice lawsuit against the hospital.
Duncan was infamously sent home from the ER with antibiotics, though he displayed Ebola symptoms and told the nurse that he had recently traveled from West Africa. He eventually returned two days later after his symptoms worsened, and was found to have the deadly disease. (The hospital initially said that Duncan did not disclose his recent travel, but eventually recanted.)
In addition, the hospital pledged to set up a charitable foundation in Duncan's name.
Josephus Weeks, Duncan's cousin who had previously blamed his death on racism, said that he was happy that the hospital moved quickly to address and settle the case. "The main focus is that Eric's name is on something and everybody knows that he didn't die in vain," he stated in a press conference, and promised to use the foundation to build healthcare facilities in Liberia.
[AP]
[Image via screenshot/CNN]
—
>> Follow Tina Nguyen (@Tina_Nguyen) on Twitter
Have a tip we should know? tips@mediaite.com