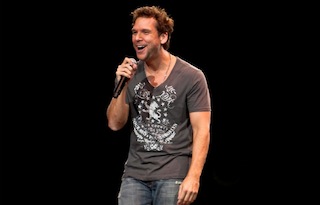 The topic of what is and isn't appropriate comedic material has been getting a lot of discussion recently. Thanks to the huge scandal over Daniel Tosh's rape material as well as the ability of iPhone wielding audience members to record and disseminate stand up sets (perhaps an even bigger no-no than heckling), comedians have seemingly found themselves under scrutiny in a way they haven't in decades. Therefore, it's no surprise that a audio recording of Dane Cook making a joke referencing the Aurora shooting is causing a furor.
Cook was performing at LA's Laugh Factory, the same famous club where Tosh made his now infamous gang rape joke, and began discussing the shooting. He focussed on the fact that The Dark Knight Rises is, in his opinion, "crappy" and then remarked on the irony of someone getting shot during it.
"I know that if none of [the shooting] would have happened, pretty sure that somebody in that theater, about 25 minutes in, realizing it was a piece of crap, was probably like 'Ugh, fucking shoot me.'"
Multiple video and audio clips of the joke have surfaced and it looks like this could be a thing. After all, both The Daily Caller and Gawker wrote it up and while neither out and out condemned Cook, both were written with the kind of negative tone that says, "I won't go after this guy but, readers, feel free to be outraged for me."
Yes, the Daily Caller and Gawker might have the same opinion on something. Clearly the world is ending.
However, before these fuzzy videos begin getting nitpicked within an inch of their life by cable news personalities whose idea of comedy is a particularly fluid segment segue, let me say that his writer doesn't particularly have a problem with Cook's joke. No, I don't think it's a great joke. But that's not because it's tasteless. It is, but the fact that it's "too soon" is less a problem than the fact that it's "too simple." Hell, I'm sure about a billion Twitter users made the exact same joke in the past week.
However, I don't think the joke is truly offensive or "wrong" and I'm much more concerned about the direction we're heading of over-scrutinizing the material of comedians. That's never a good direction.
Now, hold up. If anyone reads my writings on this site with enough regularity to remember what I've said in the past (God help you if that's the case), you may be wondering why I'm giving Cook a pass but made sarcastic jokes about Tosh. Well, it's all about the thought behind the jokes.
I was harder on Tosh, not because of the rape stuff in particular, but more for a genuine lazy tone in some of his humor. Take for instance his much criticized "Touch women on their bellies" bit. Jokes like that as well as the rape stuff seem to use shock to get laughs without putting much thought into the topics they bring up.
It's all about the target. Are you laughing at the weak or the powerful? People may want to misconstrue Cook's words to make it seem like he was mocking the Aurora victims. He wasn't. Any sincere interpretation of what he said makes it clear that he was using shocking irony to mock the millionaires behind The Dark Knight Rises.
Again, it's not a great joke. But there is clearly some thought put into its construction.
However, this will probably become a whole issue and those out of context clips will be everywhere. Really, we should be more worried about Gawker and The Daily Caller agreeing. Again, that signifies the apocalypse. We should all prepare.
And not make jokes too soon after it happens.
Listen to the joke below. Audio via YouTuber JP Brown:
Have a tip we should know? tips@mediaite.com