Darryl Willis, The New Face Of BP In The Gulf, Explains Victim Claims Process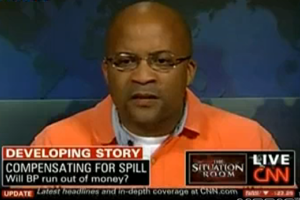 Darryl Willis is the Vice President of resources at BP America. More recently, he became the face of the corporation as advertisements featuring CEO Tony Hayward failed to connect for some reason. Willis visited The Situation Room today to explain further his role in the company, and how victims of the oil disaster can claim some of the $20 billion the company has set aside for those most affected.
Clad in the same bright orange uniform he wears in the BP ad, Willis explained that the money will soon be put into the hands of an independent commission run by "Pay Czar" Kenneth Feinberg, with which, Willis asserts, the company has a good relationship. A question repeatedly put to him by host Wolf Blitzer involved the possibility of victims who take the money having their hands tied legally, but Willis assured Blitzer that "anyone who files a claim through the process can always retain the right to file a lawsuit."
For the most part, Willis stuck to the company language– "we've got the money;" "we're going to pay the claims that are substantiated;" "we're going to do it until every drop of oil is cleaned up"– but, as a native Louisianan who claims in his new ad to have volunteered to be put in the forefront of the effort because of his relationship to the Gulf, he comes off as much more genuine than most of the faces that have come forward for the company, not the least of which is the sailboat CEO. It sounds like a paradox two months into this disaster, but putting trading Hayward for Willis as American spokesman seems to have been a good PR move by BP.
Below is Willis' chat with Wolf Blitzer today, and, below that, his appearance in the new BP spot:
Have a tip we should know? tips@mediaite.com