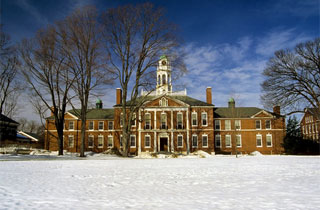 In a move countering its reputation as the hardest of party schools, Dartmouth College unveiled a plan to counter sexual assault on its campuses — notably, banning hard liquor.
College president Phil Hanlon released an extensive memo this morning detailing the new plan, called "Moving Dartmouth Forward," to increase diversity and curb sexual assault. While the plan contains some of the usual solutions — add anti-sexual assault classes to the curriculum, beef up its crisis center, develop apps for people who feel unsafe in dangerous situations, warn the Greek system to clean up its act — the college also announced a change to its alcohol policy.
From the memo:
Dartmouth's new alcohol policy for students will prohibit the possession or consumption of "hard alcohol" (i.e., alcohol that is 30 proof or higher) on campus by individuals, including those over the legal drinking age, and by Dartmouth College-recognized organizations. In addition, we will ask that the entire campus community follow suit and not serve hard alcohol at college-sponsored events and be role models for the healthy consumption of alcohol.

The key to the successful implementation of any policy change is a clear path for enforcement.
To this end, we will require third-party security and bartenders for social events. We will also increase penalties for students found in possession of hard alcohol, especially for those students who purchase and provide alcohol to minors.
Dartmouth, whose reputation as a party school was the inspiration of the film Animal House, is one of dozens of colleges being investigated for Title IX violations by the Department of Education, but will be one of the first schools to take the unusual step of banning hard liquor.
While the move was applauded by groups calling for Dartmouth to reform its policies, Jezebel noted that such bans usually lead to hard alcohol being moved off-campus to places that aren't easily monitored by colleges, such as off-campus apartments.
[h/t Jezebel]
[Image via Shutterstock]
— —
>> Follow Tina Nguyen (@Tina_Nguyen) on Twitter
Have a tip we should know? tips@mediaite.com