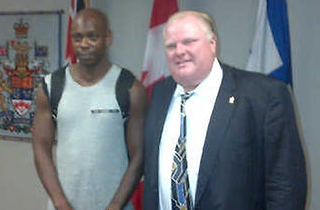 Dave Chappelle is back, and he opens up in a GQ profile this week about a lot, but one of the more interesting passages is of Chappelle describing the time he met Toronto Mayor Rob Ford (pre-scandal era).
See, back in 2012, Chappelle was in Toronto and wanted to smoke on-stage, but Toronto public health officials wouldn't allow it. So Chappelle decided to appeal directly to the mayor with a surprise visit to Ford's office.
And so here's how Chappelle recounts what had to be a very interesting meeting:
I just walked around his office. The walls were lined with all these disparaging political cartoons. And I asked somebody, "What is this?" They're like, "He thinks that motivates him." I thought that was an interesting character nuance. I had never seen him before, but he looked like Chris Farley in the pictures. He walked in and was like, "What can I do for you?" And I told him, "These ordinances exist in the United States, but they're often waived in contexts of performance, because it's an integral part of what I do." He replied, "That's it?" "That's it," I said. Then he told me, "I'm sorry, I can't help you. The laws of Toronto are the same for everybody. We appreciate you coming, we're glad you're here, but we can't change the law because it disagrees with you."
Sidenote: here's an amusing-in-hindsight little tidbit from a Hollywood Reporter piece about Chappelle and Ford from two years ago:
It's unlikely Ford tipped them off, however. The controversial mayor, despite fighting a public battle with his weight, remains staunchly committed to such unhealthy vices as red meat and alcohol.
There was that, oh, one other unhealthy vice that we've learned about since then…
You can read Chappelle's full GQ profile here.
[image via Daniel Dale]
— —
Follow Josh Feldman on Twitter: @feldmaniac
Have a tip we should know? tips@mediaite.com
Josh Feldman - Senior Editor