David Letterman Slaughters 'Damaged Human Being' Donald Trump in NY Times Interview: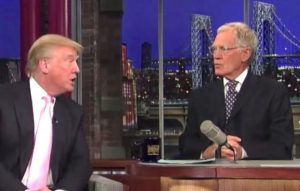 David Letterman invited Donald Trump to appear on his NBC and CBS talk shows for more than 30 years.
"He was the perfect guest," Letterman said in an an interview Friday with The New York Times.
But now, with that perfect guest potentially on his way winning the presidency, Letterman is sounding off about a man who he feels is in need of "an appointment with a psychiatrist."
Calling Trump, "a damaged human being," the former Late Show host referenced Trump's apparent mocking of Times reporter Serge Kovaleski — who suffers from a congenital condition — and said that he incorrectly assumed people would distance themselves from the republican nominee after that incident.
I thought, if this was somebody else — if this was a member of your family or a next-door neighbor, a guy at work — you would immediately distance yourself from that person. And that's what I thought would happen. Because if you can do that in a national forum, that says to me that you are a damaged human being. If you can do that, and not apologize, you're a person to be shunned.
Letterman believes people were initially entertained by Trump, which allowed him to remain in the race and ultimately defeat his 16 republican primary challengers.
"The thing about Trumpy was, I think people just were amused enough about him to keep him afloat in the polls, because nobody wanted the circus to pull up and leave town," Letterman said.
Check out the complete interview here, via The New York Times.
[image via screengrab]
–
Follow Joe DePaolo (@joe_depaolo) on Twitter
Have a tip we should know? tips@mediaite.com
Joe DePaolo - Senior Editor