Fox Anchors Do a Smug Happy Dance Realizing the Hurricane Negatively Affects Dem Voters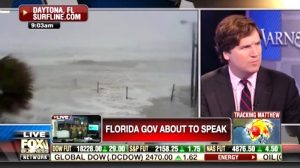 There's a deadly hurricane that has already claimed the lives of more than 800 people that continues to barrel its way up the coast of the American southeast.
Sounds like a perfect time to talk about why the Republicans are so much better off than the Democrats!
Stuart Varney welcomed Tucker Carlson for a well-rounded discussion about the political impact of Hurricane Matthew on the election, and the consensus was clear: since voter registration in the state of Florida will not be extended as a result of the storm (way to go Rick Scott! Your side-scheme to use this natural disaster to further Donald Trump's chances of winning are disastrously transparent), Republicans stand to gain the most in the Sunshine State.
Here's Carlson's logic on the matter:
"I mean, look, the conventional view, and I think it's right, is that anything that makes voting more difficult hurts the Democrats because their voters tend to be less committed — and there may be other factors there too."
Fair enough — I have no grievance with that. It's a cogent, well-delivered point; it's a fact that historically Democrats do not vote with the same passion and frequency of their conservative counterparts.
Here's where Carlson goes off the rails into the idea wasteland category:
"It favors people who are organized, who know what they're voting for, who have their lives together. I mean, I guess you could say that favors the Republicans."
Yeah, got that? It favors people who have their lives together, also known as wealthy white people who don't need to worry about voter ID issues in Florida like Nassau, Charlotte, St. Johns, Walton, Sarasota, and Martin Counties where Trump will easily win. It negatively impacts poor and diverse communities in Miami-Dade, Osceola, Gadsden, Jefferson, and Orange Counties far more likely to vote for Hillary Clinton next month. You all caught up now?
Varney added along to the high-intelligence conversation as well, contributing, "My initial reaction is to say that it favors the Republicans. I hate to be — I think that sounds almost crass to be making political judgments when the storm is still hitting, but nonetheless, I think that's where its going."
Not almost crass. Definitely crass, Stuart. Stay crassy, gentlemen.
—
J.D. Durkin (@jiveDurkey) is an editorial producer and columnist at Mediaite.
[image via screengrab]
This is an opinion piece. The views expressed in this article are those of just the author.