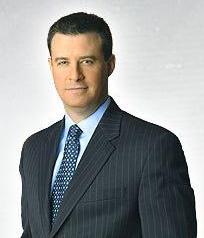 MSNBC anchor David Shuster tweeted a Media Matters link to story about James O'Keefe at 5:41am on January 27.
But since that tweet, he's been very noticeably silent, while appearing in his regular timeslots anchoring MSNBC – including for one memorable on-air fight with Andrew Breitbart on January 28. So why the Twitter silence?
The reason for this is likely a couple direct tweets from Shuster to O'Keefe the night of January 26:
@JamesOKeefeIII a) you are not a journalist b) the truth is you intended to tap her phones c) it's a felony d) you will go to prison

@jamesokeefeIII oh, and did I mention that your tweet will help prosecutors prove intent? Keep at it, young man. I'm enjoying this a lot.
"The comments were inappropriate," an MSNBC spokesperson told Politico. "We have talked to David about them."
When asked about the 19 days of Twitter silence since, an MSNBC spokesperson had "no comment" for Mediaite. So did the fight with Breitbart on MSNBC the next day lead to the prolonged silence? It looks like it probably played a part.
And if it's not a ban by MSNBC, when will Shuster return? He can email Fox News shows with his praise of their joking criticism, so surely he can tweet occasionally.
Shuster has been one of the MSNBC anchors to embrace the social networking service the most, with nearly 25,000 followers. We'll keep an eye out for when he makes his return.
Here's the Shuster/Breitbart "interview" from last month:


—–
» Follow Steve Krakauer on Twitter
Have a tip we should know? tips@mediaite.com