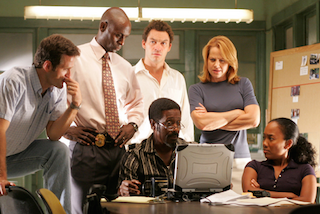 Over the last 36 hours, we have learned what Robin Williams meant to comedians like Conan O'Brien and Norm Macdonald. Now comes this remembrance from David Simon, creator of the groundbreaking HBO series The Wire. In a long elegy posted to his website, Simon looks back on his "brief encounter" with Williams and explains how the actor may have actually played a role in getting The Wire on TV.
Simon recalls meeting Williams in 1994 on the set of Homicide: Life on the Street, his show that served as a precursor of sorts to The Wire. Williams had agreed to guest star in a crucial role as a man whose wife was murdered in the show's second season premiere. Like much of Simon's work, Homicide was critically beloved but always struggled in the ratings. The presence of a big star like Williams helped Homicide get over a difficult hump commercially, in effect paving the way for Simon's long career in television.
He writes:
This was a big deal. It came at a time before premium cable, and before film stars would be caught dead guesting on network television shows. Moreover, the role called for a dry, humorless tour through post-traumatic stress, guilt and unbridled grief. It was not a Robin Williams role, to be sure. But he was box office and if he was willing to go dark then NBC was willing to go dark as well, at least for one hour.
After recounting Williams' deep dedication to staying in the dark character the episode called for, Simon sums up what Williams' appearance meant for the show and his career:
His performance in that Homicide episode was brilliant and thorough, and when broadcast, the ratings assured that the NBC drama would run another five years. Yesterday, after the news broke, Jim Yoshimura wrote to me his sadness and reflected on the fact that he would be a starving playwright now or worse if not for Robin Williams. Me, I'd be on a newspaper copy desk somewhere. David Mills, too, would have departed this vale as something other than a dramatist. All of our lives turned because a very rare and talented man came to Baltimore for a week and a half to film a television episode.
Read the full essay at davidsimon.com.
And watch a scene from Robin Williams' appearance on Homicide below, via YouTube:
[h/t Uproxx]
[Photo via HBO]
— —
>> Follow Matt Wilstein (@TheMattWilstein) on Twitter
Have a tip we should know? tips@mediaite.com