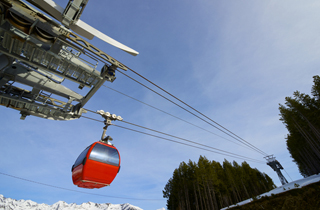 Hidden in Washington D.C.'s new $13 billion spending plan is a small expenditure for a weird, weird project: $35,000 to study the feasibility of a gondola between the tony neighborhood of Georgetown and the nearby corporate gulag of Rosslyn, Va.
Surprisingly, the Georgetown Business Improvement District has already raised $130,000 to study the feasibility of the project, which, really, involves a gondola stretching over the Potomac river for some reason. "We need to be looking at ways to reduce private automotive traffic," Joe Sternlieb, the president of the Georgetown BID, told The Washington Post. "Linking Georgetown is a really important goal, and we think the [gondola] could be one of the ways … it's extremely productive transit."
Sternlieb said he was inspired to explore the potential of a DC tram when he visited Portland and rode on the Aerial Tram, which, despite the controversy surrounding its construction, connects downtown Portland with the Oregon Health & Science University campus at the top of a steep hill, and actually has a purpose.
So why a gondola, when there's already at least three ways to get from DC to Rosslyn?
The gondola proposal was formally pitched in the Georgetown 2028 plan, a 15-year strategic plan released last year. Georgetown was once the hip, go-to neighborhood for tourists and residents looking for high-end dining and entertainment. Now, areas like Shaw, Petworth, Logan Circle and Navy Yard offer restaurants and bars that are more than just neighborhood haunts, and are attracting people from all over the region.

Georgetown is struggling to compete, and it doesn't help that the neighborhood isn't served by a Metro station. Digging underground tunnels to create a Metro station to serve Georgetown isn't likely anytime soon, and Sternlieb said a gondola could be a cheaper and faster option.

It could alleviate some of the significant traffic of Virginia commuters traveling to D.C. — and vice versa — and provide people an alternative to walking to the Foggy Bottom or Rosslyn Metro stations.
Really, though, Georgetown brought it upon themselves: when the DC Metro system was proposed in the 1970s, the tony residents of the exclusive neighborhood vocally opposed it, fearing that it would allow people from low-income neighborhoods (read: minorities) to visit and/or rob them. (It was also logistically impossible to build a transit hub in Georgetown, but the residents' protests against it turned into an urban myth.) As a result, Georgetown is basically a glorified shopping mall with chain stores, and it kind of sucks these days.
The solution? Monorail Gondola!
[Image via Shutterstock]
—
>> Follow Tina Nguyen (@Tina_Nguyen) on Twitter
Have a tip we should know? tips@mediaite.com