De Blasio Accidentally Forwards Email Complaining About NYC Subways to Times Reporter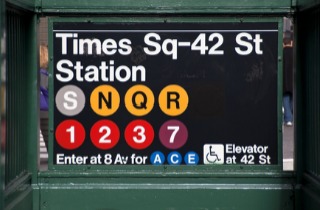 Mayors! They're just like us, except for the part where they have the ability to choose between taking fancy private cars to events, or trying to get there via the subway, which can be quicker, except for the times that they're hopelessly delayed. And in an email that got "accidentally" forwarded to a New York Times reporter, Mayor Bill De Blasio got pretty hoppin' mad about a delayed MTA train that nearly made him miss an event.
De Blasio, who's been pushing for increased funding for transportation infrastructure (and dear God does it need an overhaul), complained to his aides that his police security detail had dropped him off at a subway station, where he planned to travel to a technology conference near the Penn Station stop in Midtown. Alas, the Mayor, who now travels in his SUV to events, seemed to have forgotten the Beckettian experience of waiting for a train that, like Godot, never comes.
But he got mad when he emerged from the subway tunnel back into the light, where his security detail was nowhere to be seen, and, seething, he sent this email to his aides (and a Times reporter, oops):
"The detail drove away when we went into the subway rather than waiting to confirm we got on a train," Mr. de Blasio wrote in the email, addressed to Deputy Inspector Howard Redmond, the head of his Police Department security detail. "We need a better system."

..Mr. de Blasio, a Democrat, is not a regular subway rider: Like mayors before him, he is driven most places in a police-issued sport utility vehicle. Still, at times, the mayor's email resembled a typical rider's lament. "We waited 20 mins for an express only to hear there were major delays," Mr. de Blasio wrote. "This was knowable info. Had we had it, we would have avoided a lot of hassles."
New Yorkers! Let's play a game called "Which Express Subway Line Screwed Up De Blasio's Plans"! Considering he had to get from City Hall to 34th Street/Penn Station, was it the A/C, the 2/3, or the All/The/Trains/Are/Hopeless/Tunnels/of/Despair line?
[h/t Gawker]
[Image via Shutterstock]
—
>> Follow Tina Nguyen (@Tina_Nguyen) on Twitter
Have a tip we should know? tips@mediaite.com