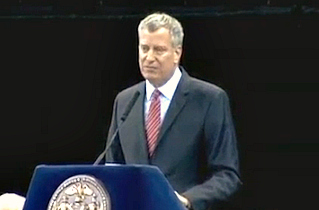 Gotham Mayor Bill de Blasio spoke Monday Morning at the NYPD graduation ceremony at Madison Square Garden, an oration rife with tension, as it follows protests over the Eric Garner grand jury decision and the ambush-style murder of two NYPD officers.
To make matters even more uncomfortable, among the graduating class was the son of Pat Lynch, the head of the Policemen's Benevolent Association, who howled that de Blasio had "blood on his hands" after the deaths of the two officers.
Upon being announced De Blasio was booed by some in attendance, though it is not clear by whom specifically. According to DNAinfo reporters Danielle Tcholakian and Aidan Gardiner, the cadets themselves did not appear to heckle the mayor.
At one point during his speech de Blasio warned the cadets that they would face "problems you didn't create," at which point one member of the audience shouted "You created them!"
RELATED: The Problem with NYPD's Back-Turning Protest, in Two Tabloid Covers
Aside from those incidents, the response was reported as polite but tepid:
polite applause for most of @BilldeBlasio speech, tho when says 'you will confront problems you did not create,' spectator yells, 'you did!'

— chris smith (@chrissmithnymag) December 29, 2014
De Blasio went on to tout the investments his administration had made in the department, and the city's historically low crime rate. "Whatever is known by this department will be in your hands instantaneously to ensure you can do your job and be protected," he said. "We'll be investing in you."
The mayor was followed by NYPD Commissioner Bill Bratton, who spent his Sunday reading the tensions between City Hall and the police department into the larger context of a contract dispute.
Watch the clip below:
[Image via screengrab]
——
>> Follow Evan McMurry (@evanmcmurry) on Twitter
Have a tip we should know? tips@mediaite.com