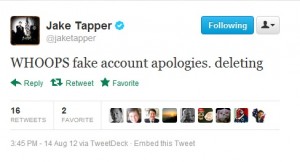 In the news business, we have a saying that says "Speed kills," and it doesn't get any faster than the 140-character stream of social media consciousness that is Twitter, which tried to kill off former British Prime Minister Margaret Thatcher this afternoon. A bogus Twitter account called @OfficialSkyNews tweeted "Former Prime Minister Margaret Thatcher has passed away at the age of 86 after prolonged illness. More details soon," briefly fooling lots of people, including ABC News' Jake Tapper, and me.
Tapper retweeted the hoax tweet, but then deleted and corrected within a minute, just as I was mobilizing our editorial staff to get on the story. "WHOOPS fake account apologies. deleting," Tapper tweeted.
True to form, he followed up with a few jokes, adding "elvis tells me that account is not real," and this retweet: RT @JoshuaGreen: "Iron Lady Thwarts Death."
The fake Sky News account has deleted all of the Thatcher tweets, and now claims to be the work of UK radio host Gary Potter. "Yes. We created the Thatcher Hoax. Here's our phone number (redacted), now fuck off! http://primetimepotter.co.uk"
However, the Primetime Potter Twitter feed currently carries no mention of the hoax.
Update: On his radio show this afternoon, Sean Hannity reported the hoax as news, and delivered several minutes of heartfelt tribute to Thatcher. While he was taking a call, he interrupted to report that Sky News was "hacked" (they were not hacked), and that Thatcher is not dead. Here's the audio:
Follow Tommy Christopher (@TommyXtopher) on Twitter.
Have a tip we should know? tips@mediaite.com