Debbie Wasserman Schultz Says She's Taking One for the Team by Resigning From the DNC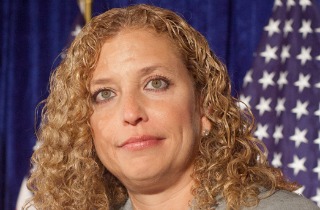 In her first public event since she promised to stand aside as DNC chairwoman, Debbie Wasserman Schultz mused about her next steps when she appeared Thursday night for a speech to the National Jewish Democratic Council.
"This has been a difficult week, there's no question about it," Wasserman Schultz said. "I am so proud of my team, some of whom are here, that put [the convention] together, from the convention team, to the national committee staff, to the volunteers, to our donors."
Wassermann Schultz became one of the most controversial figures of the week when hacked DNC emails were released by Wikileaks, and they showed that she and other officials seemed to conspire against Bernie Sanders. The revelations created massive outrage ahead of the Democratic National Convention, and Wassermann Schultz resigned from her position in an attempt to alleviate the anger of anti-Hillary Clinton voters.
"It has been a remarkable team effort, and you know sometimes you just have to take one for the team, and that's OK," said Wassermann Schultz. "I am going to be right back out there. I am taking off one hat but putting on another,"
Wassermann Schultz proceeded to use her speech to blast Donald Trump's "sarcastic" invitation of Russian espionage, and she expressed remorse that Democrats and Republicans are at odds with each other more than they are willing to cooperate. The outgoing chairwoman urged the Jewish community to rally behind the Clinton campaign, and she said that she would shift her focus towards her congressional challenger, Tim Canova.
Watch above, via Jewish Telegraphic Agency's Facebook page.
[h/t The Hill]
[Image via screengrab]
— —
>> Follow Ken Meyer (@KenMeyer91) on Twitter
Have a tip we should know? tips@mediaite.com