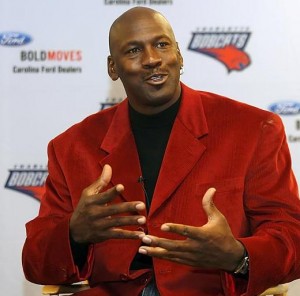 Michael Jordan has rarely opined on hot-button issues throughout the years, and he's received criticism from other basketball greats like Kareem Abdul-Jabbar over his silence. The Chicago Bulls legend has long believed that taking controversial stances might harm his business, once famously saying "Republicans buy sneakers too."
But the recent killings of unarmed African American men at the hands of law enforcement, as well as the police killings in Dallas, Baton Rouge, and elsewhere, have moved the notoriously silent Jordan to speak out, and donate $2 million to charity.
In a statement provided exclusively to The Undefeated — the ESPN website which explores subjects at the intersections of race, sports, and culture — Jordan said that he was "deeply troubled by the deaths of African-Americans at the hands of law enforcement and angered by the cowardly and hateful targeting and killing of police officers."
"I was raised by parents who taught me to love and respect people regardless of their race or background, so I am saddened and frustrated by the divisive rhetoric and racial tensions that seem to be getting worse as of late. I know this country is better than that, and I can no longer stay silent. We need to find solutions that ensure people of color receive fair and equal treatment AND that police officers – who put their lives on the line every day to protect us all – are respected and supported."
Jordan — whose father, James Jordan, was murdered in July 1993 — invoked his father's killing in the statement.
"I grieve with the families who have lost loved ones, as I know their pain all too well," Jordan said.
Jordan is donating $1 million each to the NAACP Legal Defense Fund, and the Institute for Community-Police Relations — a new organization founded by the International Association of Chiefs of Police.
[image via Shutterstock]
– –
Follow Joe DePaolo (@joe_depaolo) on Twitter
Have a tip we should know? tips@mediaite.com
Joe DePaolo - Senior Editor