Deflategate Again Shows NFL Fails at Crisis Management — But Here's How It Benefits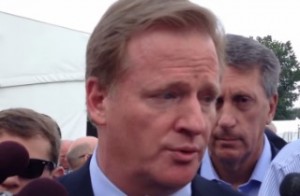 The NFL does almost everything well. The list is too long to list here, but here's a few of the only numbers you need to know: The league — despite two major PR fiascos early in the season (Ray Rice, Adrian Peterson) will generate north of $10 billion in revenue this season (an increase of $1 billion over last year). By 2027, it likely will be a $25 billion dollar-a-year sport. Nothing can stop it from being the greatest business success story this side of Apple, Amazon and Google.
To give you an idea of how ingrained the league is into our DNA, here's three more numbers to share on a micro level: When Packers-Seahawks somehow went to overtime last week, more than one-third (34.1 percent) of televisions in the country were tuned to the game on Fox. And this wasn't in the heart of primetime, but 3:15 PST and 6:15 EST respectively. In Seattle, 86 percent of all televisions were tuned in, while Milwaukee/Green Bay only had 83 percent. In a fractured media world with literally thousands of entertainment options to choose from, these kind of numbers for a non-Super Bowl are insane.
All of that said, one thing the league does poorly is crisis management. Like with Rice and Petersen, it's seemingly always amateur hour. Take Deflategate, for example: The controversy broke shortly after the Patriots dismantling of the underdog Colts (45-7) in the AFC Championship Sunday night. Short version: A Colts linebacker (D'Qwell Jackson) intercepts Tom Brady in the second quarter and notices the ball feels soft. He reports it to his coach (Chuck Pagano) who lets his general manager know up in the booth. Game officials inspect the balls at halftime (only a 17-7 game) and bring out new balls–properly inflated–for the second half, where the Pats proceed to outscore Indy 28-0 en route to the aforementioned rout.
Per the NFL rulebook, each team provides game officials with 12 footballs before the game, and the balls are required to be inflated between 12½ and 13½ pounds per square inch. The referee inspects the game balls 2 hours and 15 minutes before kickoff, places a special marking on each ball that passes inspection, and hands the approved balls to attendants on each team, who are supposed to maintain custody of the balls on each sideline. Apparently, ball security must have been handled by someone with Secret Service training, as the bag was broached as easily as the White House was not too long ago.
So what happens from there, at least from a media perspective?
Monday, Tuesday, Wednesday: Wall-to-wall coverage of Deflategate from ESPN to Fox Sports 1 to every sports radio talk show in the country. But it also gets considerable play on all the cable news networks, which only ventures into sports when controversy and scandal erupts. Bill Belicheck's press conference this morning (where he stated as expected he had nothing to do with any ball tampering) was covered by Fox, CNN and MSNBC when each wouldn't have gone anywhere near it during a normal Super Bowl run-up. As we're seeing, the controversy is now everywhere during a time when Super Bowl hype should be revving up and storylines–the positive ones–being set in motion. And boy…do we have plenty of those to choose from this year:
– Tom Brady and Bill Belichick's sixth Super Bowl together. In a time of free agency and coaches coming and going, this is a remarkable feat
– Russell Wilson–an undersized third-round draft pick–making his second Super Bowl appearance in only his third year in the league after leading an extraordinary, impossible comeback against the Packers last week
– The Patriots — forever a mediocre franchise last century — making its eighth Super Bowl appearance
– The Seahawks trying to become the first team to repeat as Super Bowl champs since, yup…New England won back-to-back titles in the 2003 and 2004 seasons
Of course, now all of these stories are on the back burner. Why? Because the league simply doesn't know how to make a decision quickly and decisively. If Coach Belichick is somehow proven responsible for the deflated balls and the league deems the integrity of the game has been compromised, suspend him already. If the league decides that while it is a violation of the rules, but only severe enough to result in a hefty fine or lost future draft pick (as was the case with Spygate), then announce that punishment. This isn't hard. A little advice: When a Super Bowl winner is crowned a week from Sunday night (Pats win 27-24), Goodell's next call should go to Judy Smith, the real-life crisis manager whom the character of Scandal's Olivia Pope (Kerry Washington) is based on. Because by allowing Deflategate to go into a fourth news cycle today is inexcusable for a league that is usually a finely tuned machine from everything from marketing to branding to event planning.
Or maybe, just maybe…the league is secretly enjoying all the attention. Hear me out: Any event does better from a ratings perspective when a foil and good guy exist (like Tyson-Holyfield or Harding-Kerrigan). Ironically, Richard Sherman and the Seahawks–last year's bad guys going into the Super Bowl against Prince Peyton and the Broncos–are now this year's good guys. Why? Because the Patriots are now the 21st Century version of the old Oakland Raiders. I quote Lisa Simpson of Fox from a Simpsons gambling episode back in 1992:
I like the 49ers because they're pure of heart, Seattle because they've got something to prove, and the Raiders because they always cheat.
That's New England now: The bad guys giving the non-football fans something to root against, more incentive to tune in. Even with this controversy, the league benefits.
In the meantime, at least when it comes to letting scandals linger, no league or business is more accomplished at letting it happen than the National (Properly Inflated 12½ and 13½ pounds per square inch) Football League.
[Image via Shutterstock.com]
— —
>>Follow Joe Concha on Twitter @JoeConchaTV
Have a tip we should know? tips@mediaite.com