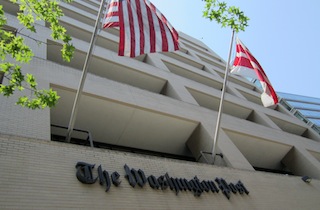 The Washington Post is reportedly undergoing a minor round of layoffs, trimming a "small" number of staff and offering buyout packages to those affected.
The Washington-Baltimore Newspaper Guild's co-chair Frederick Kunckle broke the news on the Guild's Facebook page, revealing that the people laid off had been subjected to an out-of-nowhere performance evaluation and offered buyout packages.
"You have the right to politely interrupt the meeting and request that a Guild representative be present" if they thought that they would be fired imminently, he said according to Washingtonian:
In every case that we know of, these employees were blindsided. In one instance, management attempted to stretch the terms of the contract to lay off an employee. In another, management yet again failed to live up to the standards of its performance evaluation system.

Similar to efforts that were more widespread before Amazon multibillionaire Jeff Bezos bought the Post, management cooked up a performance evaluation out of nowhere to try force a buyout. And even in the case of a recent hire who did not have job security because the employee had not served out a probationary period as required by our contract, management could not help tossing in gratuitous — and unfounded — accusations of performance problems.
He also hinted that the newspaper and the union continued to struggle over pension reductions and cuts to retirement package benefits. "Expect a bulletin soon from the company about how the Guild's painstaking efforts to fashion a response to the company's pension grab — a needless move by the Post's owner that would cost employees here thousands, if not hundreds of thousands of dollars, each — is taking so long that the union is depriving everyone of the 1 percent pay raise the company has already offered," he wrote.
The full letter can be read here.
[Image via Shutterstock]
—
>> Follow Tina Nguyen (@Tina_Nguyen) on Twitter
Have a tip we should know? tips@mediaite.com