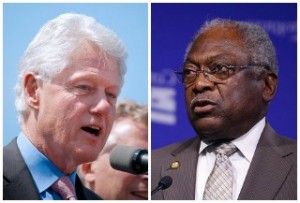 Now is apparently the time to get whatever you dirt you have on the Clintons and bring them to the forefront, because amidst all this "Hillary Papers" fracas, a new memoir from Democratic congressman Jim Clyburn includes a recounting, according to U.S. News, of the late night phone call he received from an angry Bill Clinton during the 2008 campaign season, when Clyburn was publicly criticizing the Clinton campaign and the former president personally for "bizarre" comments on African-Americans.
Back then, The Wall Street Journal reported that after hearing about Clyburn's remarks, Clinton called him over the phone, argued, and "called Mr. Clyburn an expletive." At the time, Clyburn's office refused to comment, but the congressman said "some day soon… he'll write about the incident."
Well, score one for the "politician actually delivers on a promise" column, because here's how Clyburn recounts that conversation, which took place at around 2 A.M.
"If you bastards want a fight, you damn well will get one," Clinton thundered.

As Clyburn tells it, the former president phoned to pin blame on the congressman, vent his frustration and seek an explanation on how his wife got whipped so badly [in South Carolina]…

"I had kept that promise. I asked him to tell me why he felt otherwise. He exploded, used the word 'bastard' again, and accused me of causing her defeat and injecting race into the contest," Clyburn writes.
Clyburn also writes that Clinton eventually called him weeks later to profusely apologize, and he "accepted halfheartedly."
[photo via Kate Wellington, Ralph Alswang]
— —
Follow Josh Feldman on Twitter: @feldmaniac
Have a tip we should know? tips@mediaite.com
Josh Feldman - Senior Editor