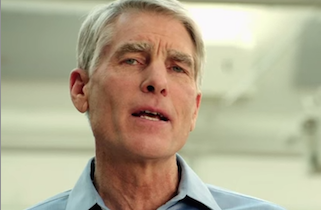 Outgoing Democratic Sen. Mark Udall is reportedly considering "all options" to reveal the long-concealed CIA torture report, including reading the entire classified report on the Senate floor.
Udall, who has been a fierce opponent of torture and of NSA surveillance programs throughout his tenure, lost his re-election bid to GOP Rep. Cory Gardner. And now, some civil libertarians are encouraging Udall to cement his legacy and "go out with a bang" by invoking the seldom-used "speech or debate clause" of the U.S. Constitution, which gives lawmakers immunity even if they reveal classified information.
Per the Denver Post:
In his first interview since Election Day, Udall told The Denver Post that he would "keep all options on the table" — including a rarely used right given to federal lawmakers — to publicize a secret report about the harsh interrogation techniques used by CIA agents in the aftermath of the 9/11 terrorist attacks.
"Transparency and disclosure are critical to the work of the Senate intelligence committee and our democracy, so I'm going to keep all options on the table to ensure the truth comes out," Udall told the newspaper. "Not only do we have to shed light on this dark chapter of our nation's history, but we've got to make sure future administrations don't repeat the grave mistakes."
The Senate Intelligence Committee, which Udall sits on, has been at odds with the Obama Administration about whether to declassify the secret report. Sen. Dianne Feinstein, the chairwoman of that committee, has pledged to release the report in the coming weeks once the specifications of declassification are worked out. But some civil libertarians want Udall to go big.
[Image via screengrab]
— —
>>Follow Andrew Desiderio (@forza_desiderio) on Twitter
[Note: Mediaite intern Andrew Desiderio is a student at The George Washington University.]
Have a tip we should know? tips@mediaite.com