Democratic Group Apologizes for Sending Trackers to Tape GOP Speakers at Memorial Service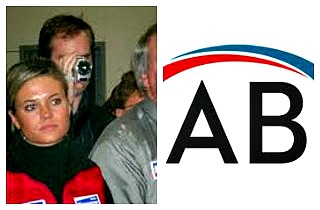 Both Republican and Democratic groups routinely send "trackers," or young staffers armed with recording devices, to opposition events in the hopes of catching candidates making an ill-conceived comment that they can be leveraged against them. The practice of sending trackers to events can yield wildly successful results. For example, in 2006, Sen. George Allen (R-VA) turned to a filming tracker and called him "Macaca" — a moment credited with costing him his Senate seat.
But the opposite is also true. Investing in trackers can be a risky proposition. Take, for example, the Democratic Super PAC American Bridge's decision to send a tracker to a memorial service in New Hampshire for the state's late executive councilor, Ray Burton. After American Bridge was caught sending a tracker to monitor comments made by Sen. Kelly Ayotte (R-NH), the group was forced to issue an apology.
The New Hampshire Republican Party was quick to capitalize on the moment, issuing a stern rebuke of the Super PAC for displaying a lack of decorum.
"It is disgusting that a Democrat-affiliated group like American Bridge would politicize a memorial service and use this non-partisan event to try and score cheap political points," declared NHGOP Chair Jennifer Horn.
"Clearly this classless liberal political organization has crossed the line, and as a result of its outrageous behavior, American Bridge trackers are immediately banned from all New Hampshire Republican State Committee sponsored events," she continued.
American Bridge later took to Twitter to issue an unqualified apology:


"Our staff has addressed the issue internally in order to ensure this never happens again," American Bridge declared.
h/t BuzzFeed
[Photo via NPR/American Bridge]
— —
> >Follow Noah Rothman (@NoahCRothman) on Twitter
Have a tip we should know? tips@mediaite.com