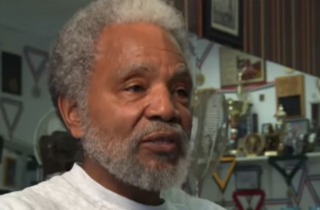 Nebraska's longest-serving state senator has found himself in hot water after likening local police to Islamic State terrorists during a legislative session.
"My ISIS is the police," State Sen. Ernie Chambers, a Democrat representing the north Omaha area, said on Friday. "The police are licensed to kill us — children, old people," he said while describing his belief that law enforcement officials have the leeway to shoot first and then ask questions.
Chambers suggested that if he carried a weapon, it wouldn't be to protect himself from other civilians but from the police. "I'd want to shoot [an officer] first and then ask questions later, like they say a cop ought to do," he continued, according to audio snippets compiled by conservative blog Nebraska Watchdog.
-RELATED: Florida Cops Fired for This Racist Video and Texts About Killing Black People
As the blog notes, Chamber's district is full of racial tensions and clashes with local police. The lawmaker himself pointed this week to an incident in which Omaha police shot an unarmed man twice in the back.
With all that strife in mind, the lawmaker suggested the real terror is right here at home:
"I wouldn't go to Syria, I wouldn't go to Iraq, I wouldn't go to Afghanistan, I wouldn't go to Yemen, I wouldn't go to Tunisia, I wouldn't go to Lebanon, I wouldn't go to Jordan, I would do it right here," Chambers said. "Nobody from ISIS ever terrorized us as a people as the police do us daily."
When confronted about the comments this week, Chambers clarified that "I'm not advocating that anybody, especially anybody in my community, go out and shoot people," but rather that "if you're going to follow the rule available to cops, just shoot somebody and come up with an alibi."
UDPATE — 12:52 p.m. ET: University of Nebraska political theory professor Ari Kohen takes issue with what he believes is a one-sided story told by Watchdog, and provided additional context surrounding the lawmaker's remarks:
During a hearing on LB635, which would lift the prohibition on concealed carry of firearms on the premises of Nebraska businesses that make more than 50% of their revenue from the sale of alcohol, state Senator Tommy Garrett, who sponsored the bill, made a comment about what he felt was a need to carry a concealed firearm in order to protect his family from the threat of ISIS at Applebee's.

Senator Chambers' remarks were in response to Senator Garrett's outlandish claims about ISIS. And yet Deena Winter, who writes for a website called Nebraska Watchdog that first "broke" this story […] makes no mention of Garrett's ISIS comments or the context in which Chambers made his comments, namely in a discussion of middle class white Nebraskans needing to carry concealed firearms to protect themselves against the absolutely imaginary threat of ISIS invading a rural Applebee's.
Listen to the clips below, via KFOR:
[h/t Washington Examiner]
[Image via YouTube/screengrab]
— —
Have a tip we should know? tips@mediaite.com