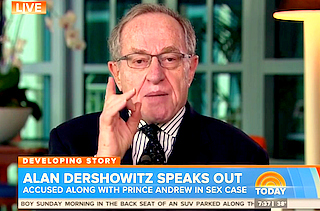 An email obtained by Mediaite indicates an effort to solicit funds for Alan Dershowitz's defense in a defamation case, aiming to "defray the enormous expenses which have been thrust on him so unjustly."
"Alan has been championing our issues for 50 years," reads an email by fellow attorney Alan C. Rothfeld, Dershowitz's former student. "Now it's our turn to support him."
The email details Dershowitz's legal entanglements since he was named in a lawsuit filed by Jane Doe #3, which alleged plutocrat Jeffrey Epstein kept her as an underage sex slave. The suit was not filed against Dershowitz, but included him as one of the men who engaged in sexual activities with the plaintiff at Epstein's direction.
Dershowitz virulently denied the accusation, and denounced her attorneys for not checking the allegation before it was made court record.
"Her lawyers…deliberately and willfully filed this had in a pleading, which they knew I had no opportunity to respond to in court, without any investigation," Dershowitz said on the Today show in January.
These comments and others instigated a defamation lawsuit from Paul Cassell and Bradley Edwards, Doe's attorneys.
"Now Alan is fighting for his own justice," Rothfeld's email reads. "However, defending his reputation is proving to be extraordinarily expensive; current estimates for legal and investigative bills exceed $1,000,000."
"A legal defense trust has been established to help Alan defray the enormous expenses which have been thrust on him so unjustly. The defense trust will allow him, once again, to devote his time and resources to issues about which we care so deeply."
The email instructs contributors to make checks out to the Alan Dershowitz Legal Defense Trust, and names Rothfeld as its trustee.
We reached out to Mr. Dershowitz for comment and he responded:
I am aware that my former student came up with the idea and I appreciate it.
[Image via screengrab]
——
>> Follow Evan McMurry (@evanmcmurry) on Twitter
Have a tip we should know? tips@mediaite.com