Despite 'Worst Rollout Ever,' Mitch McConnell's Opponent Could Give Him A Run For His Money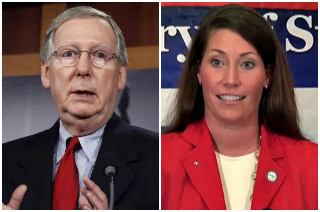 Senate Minority Leader Mitch McConnell officially has a challenger for his Kentucky seat, but this one might not get the rabid response out of McConnell that erstewhile opponent Ashley Judd did.
Alison Lundergan Grimes announced her candidacy for the Democratic nomination on Monday in a hastily called press conference; nobody knew she was running until the she announced, and the details haven't been worked out, or perhaps even thought about. Grimes was standing in front of the wrong sign, for starters—the banner blazing behind her read "Grimes For Secretary of State"—and the only website that exists for her campaign is a non-affiliated Facebook page. The National Republican Senatorial Committee wasted no time in scoring points off the improvised announcement, saying, "If this is a rollout to a Senate campaign it's amongst the worst in history," and tweeting: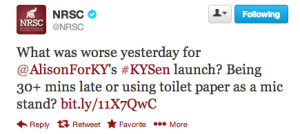 McConnell dodged a bullet when Judd, a movie star with a progressive platform and huge fundraising potential, decided in March to sit the race out. She so worried the Kentucky Senator that he was caught on secret audio tape planning a smear campaign against her, while the Daily Caller was called into slut-shaming service.
Grimes may not pose as acute a threat to McConnell—this is a state in which Obama garnered only 38% of the vote in 2012—but that's not to say she's going to let him coast to victory, either. One of the youngest Senate candidates in recent history, Grimes is the daughter of a Kentucky Democratic chairman and is currently serving a popular term as Secretary of State. McConnell, meanwhile, has damaged his standing through a filibuster-based strategy in the Senate; he's vulnerable enough than a viable challenger could prove a major distraction, both for McConnell and the NRSC. Via Rich Klein of ABC News:
"The idea of giving Senate Minority Leader Mitch McConnell, R-Ky., a free pass, or something close to it, would have been a major blow to efforts to engage donors and activists in what's going to be a tough 2014 for Democratic congressional efforts. Democrats know they may not take down McConnell next year. But they also know they stand a better chance of keeping or perhaps expanding on their majority if Republicans have to sweat it for their leader—and if Democratic donors have been causes to get behind."
McConnell has been mocking Grimes over the past week for delaying her decision over whether to run. After she declared Monday, he released a snarky statement, saying, "Accepting the invitation from countless Washington liberals to become President Obama's Kentucky candidate was a courageous decision by Alison Lundergan Grimes."
In response, Grimes contrasted her age and gender to the septuagenarian McConnell's inertia, blasting his comments as "based out of fear, of losing his thirty-year grip on power. This Kentucky woman does not believe the voters of Kentucky will be fooled that easily."
That's a decent riposte. Grimes's challenge now is getting the rest of her campaign on that level. She might want to start with a new sign.
Watch the announcement here:
—
>> Follow Evan McMurry (@evanmcmurry) on Twitter
Have a tip we should know? tips@mediaite.com