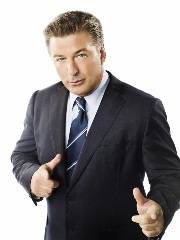 When Jack Donaghy looked at Liz Lemon as she rambled on Thursday night on 30 Rock and quipped, "This is like watching Hemingway write—Mark Hemingway," was Jack referring to C-list conservative pundit Mark Hemingway at the Washington Examiner (and formerly at National Review Online)?
Hemingway seems to think so, and isn't taking any offense.  After the show, he tweeted:
@heminator Ok, now that I've had my pop culture moment in the sun — back to cleaning the bathroom."
The meta-discussion—the kind that can only take place in the DC pundit nerd class—is whether the show's liberal writers were using liberal Alec Baldwin, playing conservative Donaghy, to take a swipe at the C-lister.
Hemingway told Patrick Gavin at Politico"I don't know about the writers room at '30 Rock,' but an obsessive Huffington Post guy like Alec Baldwin probably reads National Review Online and the editorial page of the Washington Examiner — if for no other reason than to scoff. From there, my famous last name just lent itself to an easy punch line and an inside joke."
Meredith Blake at the Los Angeles Times' Show Tracker has a different take:
Jack's Republican talking points: OK, this might be a stretch, but when Liz does her terrible improvisation, Jack tells her "that was just like Hemingway….Mark Hemingway." Was that a reference to National Review blogger Mark Hemingway? Given Jack's ideological leanings, is that meant to be some kind of compliment? Alas, we may never know.
Hemingway joined the pundit exodus to the Washington Examiner this Fall after a few years at the National Review Online.   Beyond a slap-fight feud with Salon's Glenn Greenwald over gay-baiting a Supreme Court justice, Hemingway isn't terribly well known in pundit circles outside the closely-knit world of Gen X and Millennial conservatives in Washington, D.C.  At NRO, he specialized in reporting on events, giving breathless takes on the March for Life, Tea Party rallies, disrupted Town Hall meetings and CPAC conventions.
To add another layer of "only in DC" intrigue to the story, Hemingway quoted Donaghy's swipe at the New York Times from last week in a post today at the religious conservative media watchdog website GetReligion in a set-up to a neocon critique of a NYT story about a Muslim center near Ground Zero:
Jenna: You've got to lie to her, coddle her, protect her from the real world.

Jack: I get it. Treat her like the New York Times treats its readers.
So how did the 30 Rock writers uncover Hemingway's work, or was the name "Mark" just a name picked out of the air to contrast with Ernest Hemingway? Did Alec Baldwin have his liberal hands in it? What C-list pundit is next on the list of people to be name-checked on 30 Rock?  Tune in next week.
Have a tip we should know? tips@mediaite.com