Did The View Pull Punches With Omarosa to Book Future Trump Administration Officials?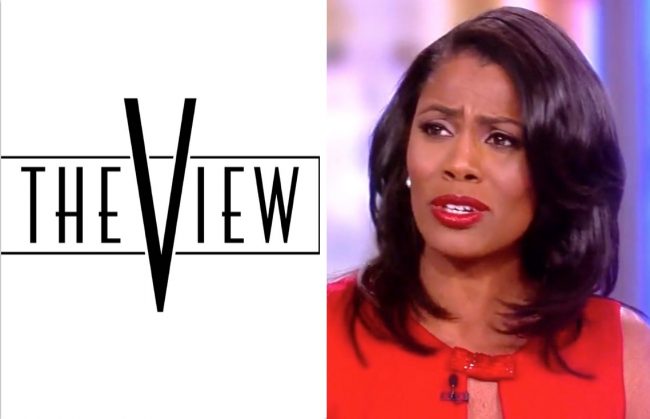 Mediaite has learned from a source that the ladies of ABC's The View were told to pull some punches during their interview today with Omarosa Manigault, the longtime Trump surrogate turned White House executive Assistant, in an effort to protect the potential of future administration bookings on the show.
Although Omarosa got into some testy exchanges with the show's co-hosts — notably Joy Behar and Sunny Hostin — our source indicate that the ABC daytime talk show wants to ensure that Trump administration officials could be booked for future episodes of the show. As such, the panelists (according to our sources) were given clear directives to ease up during Omarosa's segment.
Additionally, the booking of Omarosa on the show was curiously timed to be on an episode when vociferous/no-BS cohost Whoopi Goldberg was conveniently absent from the conversation.
During one notable exchange Friday, Omarosa pushed back on Hostin hard at the suggestion that the former Director of African-American Engagement was hired for "optics" for the campaign looking to court votes of black Americans. Omarosa rejected the theory outright, even managing personal swipes at Behar in her response.
Then, in the final minutes of the interview, Omarosa got away with a low blow against Behar's personal love life that largely went ignored.
It seems strange that the usually fierce and unyielding View cohosts would allow a guest to force her way into personal uncalled-for personal criticisms. The women on The View were clearly reserved, pulling major punches with a combative guest and appearing to bite their tongues, all things considered.
Watch the two exchanges in question and judge for yourself. Here is the first segment between Hostin and Omarosa:
…and here's the second, when Omarosa randomly takes a personal potshot at Behar's personal life.
The show previously has had notable run-ins with Kellyanne Conway; after an appearance in September when Behar cornered Conway about her candidate's hard language towards women on the campaign trail, the former Trump campaign manager tweeted mockingly that The View is a source for "hard news."
For those getting hard news fr. @TheView, biz officials tell me Trump: 1) did no biz in Cuba 2) respected embargo 3) was critical of Castro

— Kellyanne Conway (@KellyannePolls) September 29, 2016
The show responded in kind, with former Fox News contributor Jedediah Bila leading the way.
An ABC spokesperson tells Mediaite, "If you watched the show today, it's clear they didn't hold back and they asked their questions. It was business as usual."
—
J.D. Durkin (@jivedurkey) is an editorial producer and columnist at Mediaite.
This is an opinion piece. The views expressed in this article are those of just the author.