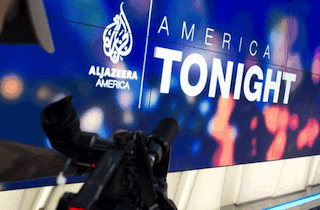 In a year-end review of the media highs and lows of 2013, Al Jazeera America slipped in a contender for most exciting new news source: Al Jazeera America.
Asking "Can news be saved?," Victor Balta, AJAM's planning editor, seemed to think that a host of new media players at the very least "offered hope." First and foremost among them Al Jazeera itself, an odd bit of self-promotion particularly for a piece on saving journalism.
He placed the Qatari news network's jump into the American market alongside other major new media figures who would likely be mentioned in any story on the future of journalism like Amazon founder Jeff Bezos, who purchased The Washington Post last spring, and eBay founder Pierre Omidyar, who's funding a new journalism venture with Glenn Greenwald and others. What makes the mention particularly audacious is that thus far, the network has struggled to find almost any viewers.
"Media ownership took an interesting turn in 2013," Balta wrote, "as some Internet billionaires, the Qatar-based Al Jazeera Media Network and others jumped into the game…The question of who owns the media is an important one, and audiences should hold outlets accountable for their content and what interests they are serving. It is too soon to know whether any, all or some of these nascent ventures will have a lasting impact on U.S. media, but given the failures of the old model, more than $1 billion in new investment and new ideas will make 2014 and beyond much more interesting to watch."
[h/t AJAM]
[Image via screengrab]
Have a tip we should know? tips@mediaite.com