Did Disney CEO Robert Iger's Tribute Video Exploit The 9/11 Attack For Political Gain?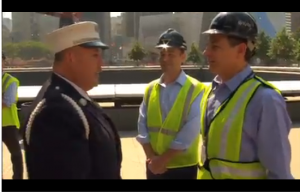 Disney has raised a few eyebrows with a recent ad highlighting the company's $5 million contribution to the National September 11 Memorial & Museum. Not, solely because, you know, we're all jealous haters who eat babies' souls and crumble to dust at the mention of charitable works, but because the ad teeters on the line between drawing attention to a noble cause and exploiting that cause to promote its CEO, Robert Iger.
An Los Angeles Times op-ed details how, exactly, the ad veered into… uncomfy territory:
That glossy, overproduced bauble landed in the in-boxes of Disney employees over the weekend and on the website of ABC News, a Disney property. The three-minute video paid tribute less to the fallen warriors, new beginnings in New York or even the movie and entertainment behemoth than to the man at the top of the Disney food chain.

The video was so frothy, had so many references to Iger's New York ties, not to mention a couple of links to Empire State politicians, that several political analysts who looked at it for The Times said they could easily see it being the preview to an Iger political campaign. Iger has been mentioned as a possible candidate before. And it wasn't lost on the experts that New York Mayor Michael Bloomberg is leaving office at the end of his third term in January 2014.
The video also included praise from none other than ABC News' Diane Sawyer, who shared that Iger is a "great leader" and, perhaps oddly, urged viewers to "never doubt that he's a New Yorker." A spokeswoman for the National September 11 Memorial & Museum told the LA Times that the video was typical of the sort produced every year to recognize the efforts of the museum's honorees. Nonetheless, Iger, who seems to be quite happy with the way the video turned out, emailed it to over 100,000 company employees over the weekend and ABC News, for which Walt Disney is the parent company, featured the video on its website. And while the video may very well be typical, it may just be that that level of promotion that has, say, the folks over at the Times and The Hollywood Reporter wondering whether Iger is gearing up to campaign for political office.
In a climate when it's all too easy to exploit a national — and even global — tragedy for personal or corporate gain, the video shows the virtue in choosing humility over self-promotion and honest talk over marketing. If your tribute ad has more people wondering about your supposed political aspirations than solemnly remembering a tragedy, you may have veered slightly off-course. Unless that was your goal all along, in which case: Yeesh, dudes.
Have a look at the video for yourselves and let us know what you make of it:
h/t LA Times
Have a tip we should know? tips@mediaite.com